Transducer Smart Setup
Transducer Smart Setup is a mobile application that works in combination with data matrix codes (similar to QR codes™) on transducers. The purpose is to simplify and automate multi-channel test setups, giving you instant access to specifications and calibration information.
With the Transducer Smart Setup app, you can scan the data matrix code on a transducer using the smartphone's camera. The app recognizes the transducer and allows you to add associated data, such as its location and orientation (Component ID, Node ID, and DOF Direction), minimizing the risk of data entry errors.
To simplify the measurement setup process, minimize human errors in setting up, and give easy access to transducer documentation, some transducers are engraved with data matrix codes. Data can be imported into PULSE Reflex as hardware configuration tables, recognizing which transducer is plugged in, completely removing the need to trace cables.

SAVE TIME AND REDUCE RISK OF ERRORS
For Brüel & Kjær accelerometers and microphones without a data matrix code, and third party transducers, the Transducer Smart Setup app semi-automates inputs such as alignment and location, saving time and reducing the risk of errors in comparison to traditional setup procedures.
DATA AND PRODUCT INFORMATION ON SMARTPHONE
Even without the app, the data matrix code on your transducer provides fast and easy access to detailed product information such as calibration data and specifications, when scanned with a matrix code scanner on your smartphone or tablet.
Try scanning the data matrix code on the accelerometer below with your smartphone's matrix code scanner to see how you can get access to transducer documentation.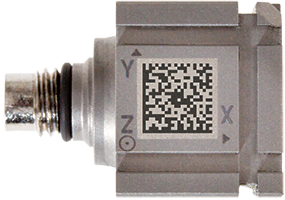 The data matrix code is engraved on the transducer for easy access to product details, such as:
Specification
Accessories
Documentation
Local sales information
Sensitivity calibration history
Calibration chart
Transducer Smart Setup app
TRANSDUCER SMART SETUP SIMPLIFIES SETUP
INTRODUCTION TO SMART SETUP FEATURES
DOWNLOAD TRANSDUCER SMART SETUP APP
The Transducer Smart Setup app is available for iOS devices (iPhone®, iPad®, and iPod touch®) and can be downloaded from the App Store®.