PULSE 21 brings new products, new features and numerous enhancements and fixes to PULSE Reflex. But, as well as extending the Reflex platform, we have been working very hard to improve performance for real-time measurements and post-processing.
Some of these improvements came from replacing important components like the Result Matrix with better, faster components for a quicker, more efficient workflow. Others came from re-coding deep down in the platform to improve raw speed, changes so fundamental that they improved performance across all Reflex applications.
Using PULSE 20 as a baseline, we identified and evaluated the areas which were most in need of improvement, then started to implement changes across all the whole platform. For many of our developers, this was their main focus throughout the development of PULSE 21.
The introduction of our new Monitor component in PULSE 21 plays a critical part in improving speed and efficiency during measurement set-up. Previously, the only option for monitoring live spectra was to initialize the analysis system, start a measurement, and then observe live spectra in the Measurement Displays. During the set-up phase, repeated re-initialization of the analysis system was needed simply to observe the effect of each change in set-up. For smaller channel counts, the initialization time was almost negligible; however, for larger channel counts, the initialization time increased significantly, so the set-up process could become quite inefficient.
In contrast, live spectral monitoring in the Monitor component is continuous from the moment the measurement channels are activated, and it runs without interruption, independent of the analysis system so that monitoring is now possible before, during and after measurement. It is also very fast, responding almost instantaneously to changes in channel selection or bandwidth. So this new component transforms your efficiency when setting up measurements in Reflex. And there will be further enhancements to the Monitor component in future releases.
Looking at the overall workflow for real-time measurements, we identified three areas for special attention: system initialization time (as mentioned above); time taken to save results and projects to the database; and time taken to export results and projects to external files. At all times throughout the development process, our work was guided by detailed conversations with customers.
To provide a basis for assessing improvements, we defined a "typical", moderately large measurement system, and configured it to perform measurements on a test structure in our experimentarium in Nærum, Denmark. The system was kept unchanged throughout the development process and consisted of a 132-channel LAN-XI system with two output (generator) channels connected to two electrodynamic shakers. The computer hardware was a Dell Latitude E6540 with 16GB of RAM and SSD hard disk storage.
Our benchmark measurement set-up used all the input channels, with two force references, bandwidth 3.2kHz, measuring the complete set of auto spectra, FRF H1, FRF Hv and Coherence using MIMO. Important steps in the workflow were measured using PULSE 20 as our baseline. The key results were:
Initialization time was reduced by a factor of 3.1
Time to store all results to Project Browser was reduced by a factor of 6.5
Time to save the project to the database was improved by a factor of 1.5
Time to export all results to a BKC file was improved by a factor of 1.8
The overall workflow for all these steps combined was reduced from around three minutes to just under one minute.
The additional good news is that the dependence of initialization time on channel count has been improved to an almost linear relationship, meaning that the improvements are more obvious as channel count increases. For owners of very large systems this will be a significant enhancement.
Reflex is more than just a measurement system. The post-processing user interface is designed for quick access to useful information, whether it be time data (recordings), specific results or the metadata about your measurements. User experience in post-processing has been greatly enhanced by improvements in Drag & Drop speed when processing large numbers of recordings in a single batch process.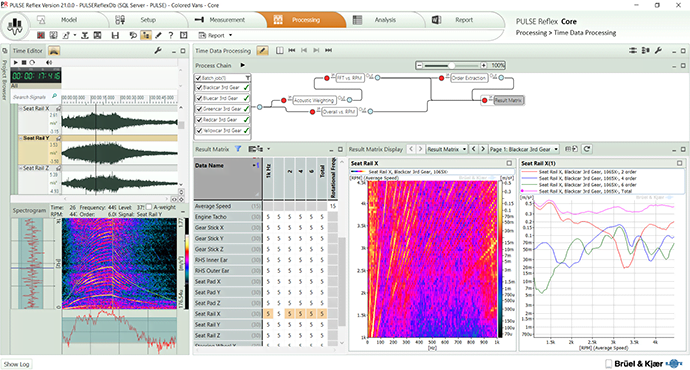 Our main benchmark for this was based on a specific customer scenario loading 120 recordings, each with 36 channels, imported with links. The analysis included spectral measurements and single number slices for a total of 17,280 results. The computer hardware was a Dell Latitude E6540 with 16GB of RAM and SSD hard disk storage. Many of our customers will never explore these limits but, by improving the performance for this scenario, everyone benefits.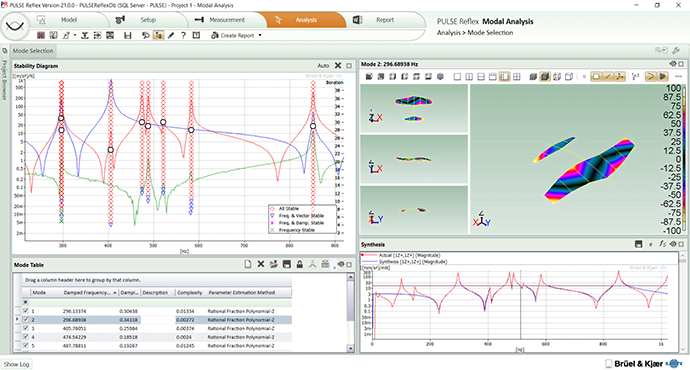 Simply opening a project that has this many results can take a while, then dragging the recordings to the process chain (all 120 of them) and exporting the results (all 17,280 of them) to Excel can take even longer. But the improvements from PULSE 20 to PULSE 21 were dramatic:
Time to open the project reduced by a factor of >10

Time to drag all 120 recordings to the process chain reduced by a factor of 7

Time to export all (17,280) results to Excel reduced by a factor of >50!
Overall, there have been many improvements in Reflex for the PULSE 21 release from our new Stepped Sine Structural application to the enhancements in the Acoustic Camera, but there was also a lot of energy spent in improving the general day to day experience. We are confident that in some aspect of your day to day work you will see these improvements, and this will continue to be in our minds as we move on to develop PULSE Reflex beyond PULSE 21.
We appreciate your feedback and encourage you to continue submitting your ideas through your local sales and support engineers as well as through the beta test program which we conduct over the summer months leading up to each major release.