Troy, MI | September 10 — 12
The Bruel & Kjaer Sound and Vibration Conference is an institution between sound and vibration professionals. For over 20 years, we have brought professionals and experts together for a multi-day event of technical sessions and courses, combined with plenty of opportunities to network with experts and peers. Please find our course offerings and their brief descriptions below. We encourage you to download our interactive conference brochure to review all the courses in more detail. Be sure to register early, classes fill up quickly.
Conference location and accommodations can be found in the course brochure.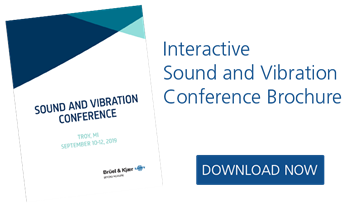 Session Overview:
September 10th (Session start times are approximately 9am for the morning and 1pm for the afternoon)
Material Testing (½ Day Morning Session): This ½ day session will introduce attendees to material acoustic testing. Special emphasis will be placed on the simple interpretation of results and using the results to make real world decisions to improve material performance
Tire Testing (½ Day Morning Session): This ½ day session is meant to provide an overview of the tools, techniques, and approaches to tire NVH problems. Topics to be discussed include an overview of tire noise generation mechanisms, exterior tire noise, and interior tire noise, as well as practical perspectives and examples from an industry expert.
Quality Assurance & End of Line Testing (½ Day Afternoon Session): This ½ day session is for current and future users of the Brüel & Kjær end of line solutions. The discussion will center around Brüel & Kjær recent acquisition of DISCOM and their ROTAS system.
Getting the Best Material Test Results (½ Day Afternoon Session): This ½ day session will provide an introduction to practical material acoustic testing. Topics will include: an overview of the various material tests including impedance tube absorption, transmission loss, reverberation room absorption, transmission loss, and beam damping tests.
Rotating Machinery: Rotating machinery is all around us and we have many tools available to record and analyze noise and vibration of them. here will be demonstrations on some rotating machines during the course as well as real world examples.
Fundamentals of Noise & Vibration: This session provides an introduction to fundamental concepts of acoustics and vibration theory and measurement. It is intended for those who are new to these topics, but also to those with modeling backgrounds who may now need to have a greater connection to acoustic and vibration testing. The class topics include: introductory acoustic and vibration theory, basic instrumentation and transducer concepts, basic spectrum analysis concepts.
Sound Quality and Jury: The Sound Quality of a product is important when assessing its total quality. For products ranging from cars to hand tools to golf clubs, not only the level but also the quality of the sound it makes is part of the customer experience.
Pass-by, Noise, Simulation to Exterior: This session will give you an overview of all the possibilities available within the Brüel & Kjær, industry leading, pass-by system. You will learn how the system can be configured to meet your needs and see how the software user interface can help easily take you from setup to the report in a very short time.
eDAQXR Product Training: This session provides a complete overview of the HBM eDAQXR and eDAQXR lite hardware along with its setup software. Attendees will become familiar with the various hardware layers and their functions as well as proper communication methods.
BK Connect® Systems Training (2 Day Session): This session you will help you understand the general scope of BK Connect for measurement and analysis. You will become familiar with the user interface and user configurable workflow in BK Connect and be able to perform a detailed analysis on measured/recorded time data using the BK Connect Data Processing application.

September 11th (Sessions start at approximately 9am)
The Role of Vibration in Fatigue: This session will explore the crucial link between vibration and fatigue and show that by understanding both we can avoid unnecessary over-design and prevent operational failures.
Transducer Workshop - HBM and Brüel & Kjær Transducers: This is a two part course. HBM will provide Design-, Test- and Manufacturing engineers the basics of reliable measurement of mechanical quantities such as Strain, Torque and Force with complementary digital signal conditioning. Brüel & Kjær will share the latest in transducer technology for those in the sound and vibration measurement space.
Linking CAE & Test for NVH Design, Simulation and Troubleshooting: In this session, NVH challenges will be addressed from basics of NVH design, utilizing simulation to speed development time, best practices for NVH design and development, as well as fundamentals of troubleshooting utilizing a combination of test measurement techniques and CAE solutions.
Modal Analysis of Correlation (2 Day Session): This one-and-a-half-day modal training course is a great introduction to the principles of modal analysis, from basic definitions to more advanced applications. This session will put the emphasis on practical considerations and presented concept will be demonstrated with live measurements on test structures
Practical Approach to Sound and Vibration Troubleshooting: This session will provide a strategy and understanding of the methods and tools typically utilized to solve product sound and/or vibration concerns. This session describes a variety of operating and artificial excitation tests that can be utilized for troubleshooting efforts, with a focus on specific noise and vibration techniques that can aid the troubleshooting process.
Advanced Noise Source Identification (1 ½ Day Session): This course will describe various Noise Source Identification (NSI) techniques. Since NSI tools are continually advancing, students will be exposed to the latest array technology and just enough theory to gain a basic understanding of what is required, without being overwhelmed.
Powertrain Solutions: This full day session will cover transducer selection and mounting, data acquisition as well as an overview of available Brüel & Kjær and HBM solutions that are used in typical powertrain testing. Real world case studies will be shared.
Introduction to Shaker Based Vibration Testing (2 Day Session): This two day session provides a practical introduction to the subject of vibration testing. Designed around the needs of engineers new to the subject of vibration testing and yet offering a useful refresher course for the more experienced user. This course explains how to interpret vibration test specifications and apply them to a vibration test system.
Introduction to Strain Gauges: There are many challenges to mounting and using strain gauge sensors to make measurements. Ask questions and review project ideas directly with strain gauge experts.
Customer Appreciation Event: This is our time to thank you, all of our customers, for your on-going support! We invite you to join us for the celebration at the beautiful Marriott in Troy. The evening will be filled with delicious hors d'oeuvres, refreshments and of course networking! The evening begins at 4:30pm, immediately following classes and will run until 6:30pm. It's a perfect time to unwind, have some fun and connect with colleagues and other sound and vibration engineers.

September 12th (Session start times are approximately 9am for the morning and 1pm for the afternoon)
Sound Level Meter User's Group - Tips and Tricks: This session is for current and future users of our 2250/2270 Sound Level Meters who would like to learn the basic and advanced features of these Sound Analyzers. In addition to the sound level meter discussion, a portion of the course will focus on vibration measurements.
Spectrum Analysis: This session is for engineers involved with frequency analysis and FFT analyzers in testing, research and design. Technical managers who need an overview of these techniques will also benefit.
Test Cell and Standardized Testing Workshop: A broad introduction to general test cell data acquisition and analysis workflow. Applications include repetitive testing in test cells; for example gas turbine testing, satellite testing, and general shock and vibration.
NVH Simulator User Group – Advancements in NVH Simulator Technology (½ Day Morning Session): In this session, recent new features and capabilities will be reviewed and demonstrated. Future advancements in the NVH Simulator products and technology with a preview of what is coming soon will also be presented, including sound design for electric vehicles.
Principles of Torque (½ Day Morning Session): The object of this course is to offer a basic understanding of measuring Torque
Active Sound and Vibration Design for Electric Vehicles (½ Day Afternoon Session): An electric vehicle isn't just a vehicle with an internal combustion engine swapped out for four DC motors. Rather. it is a new kind of vehicle.