Results OF Beyond Tomorrow: 2030 vision study 
75 years to the day after Brüel & Kjær was granted license to trade, the results of the Beyond Tomorrow vision study were presented in an event at Brüel & Kjær's headquarters in Copenhagen.
The Beyond Tomorrow project is an ambitions vision study inspired through lokoing back at the challenges and triumphs over the past 75 years. It was initiated by Brüel & Kjær and developed by Copenhagen Institute for Futures Studies (CIFS), along with a panel of industry experts, to help businesses identify and analyze mega trends, influences and scenarios for product development in 2030.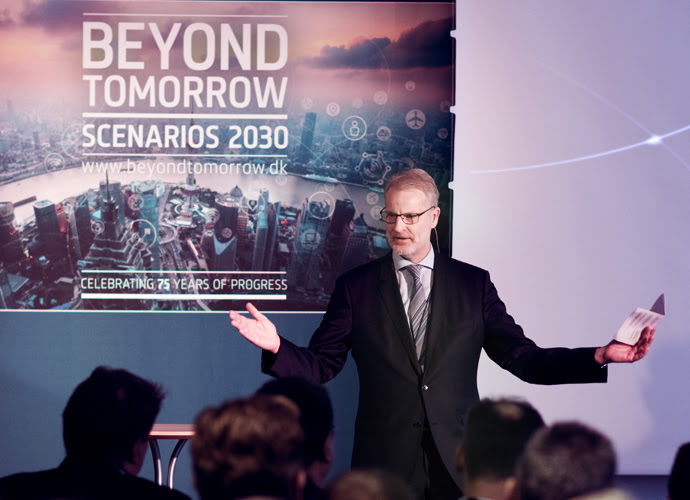 Søren Holst, President of Brüel & Kjær, introduces the Beyond Tomorrow project
The project is developed around the fact that the world is in a constant state of change. The future, especially when it comes to product development, will hold surprises and unanticipated events. To get a more accurate picture of where our world is heading, the Beyond Tomorrow project takes an outside-in approach to examining the future of product development with four scenarios. Looking towards the year 2030, these scenarios generate valuable insights that can help organizations to prepare for and, crucially, influence this potential future, as well as better understand the role that sound and vibration will play.
The four scenarios
The themes of the scenarios were designed to provide qualified and likely futures, and to identify key areas for businesses to consider in their strategic planning.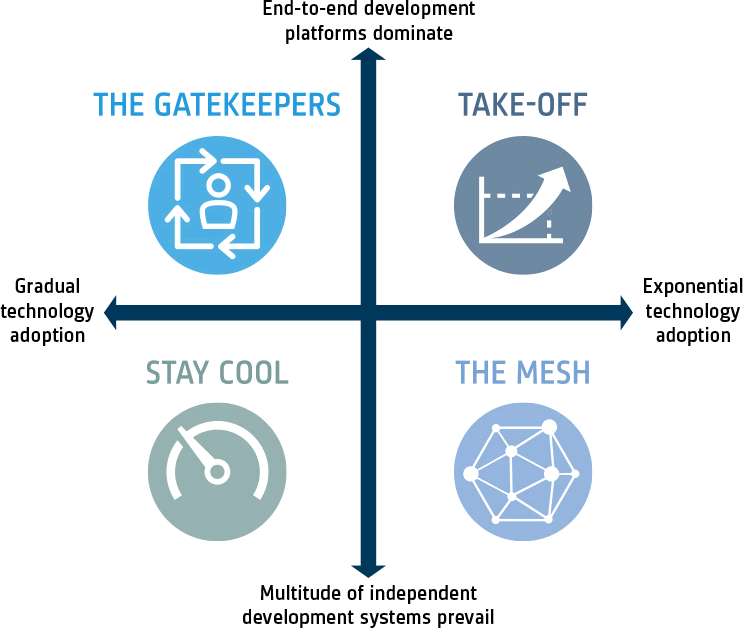 The four scenarios are:
Gatekeepers: The gradual adoption of technology and centralized end-to-end platform
Take off: The fast adoption of technology where end-to-end platforms dominate
The Mesh: The exponential adoption of technology involving multiple independent development systems
Stay Cool: The incremental adoption of technology involving multiple independent development systems
The scenarios are explored in much greater depth in the full Beyond Tomorrow report. By creating, using, and analyzing the consequences of scenarios, the results of these give a far broader and more accurate perspective on what tomorrow holds. Such information helps organizations to be better prepared for a wide variety of potential challenges, such as developing new products and services, ever-stronger competition, and growing demands from customers and stakeholders.
Presentation of the findings
The findings from the vision study were presented and discussed at a customer event in Copenhagen on December 4th, 2017, 75 years to the day after Brüel & Kjær was granted license to trade.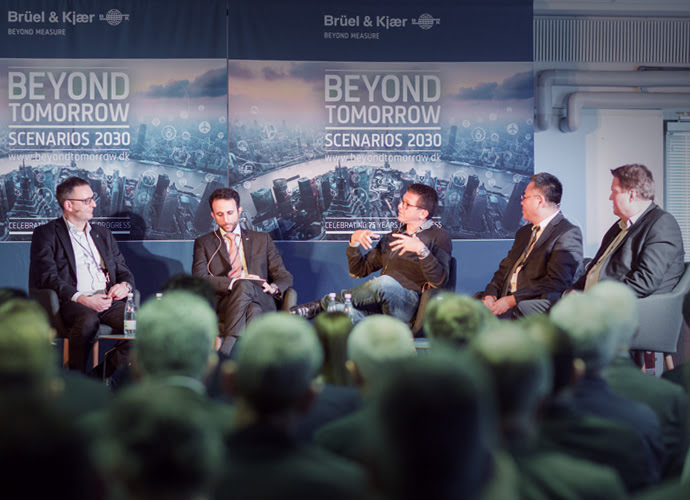 "AI will not be complete without IoT"- The expert panel hard at work
Carsten Beck (CIFS) introduced the project findings and took a deep-dive into the four scenarios, followed by a lively discussion where industry experts shared reflections on the scenarios and the future of product development.
On the panel were:
Per-Olof Sturesson, Senior Director for Driving Dynamics, Volvo Sweden
Dr Marco Ballatore, Function Manager NVH, Bentley Motors
Arnaud Talon, Head of Vibration and Dynamics Measurement Group, SAFRAN
Jianmin Guan, Director of Vibration and Acoustic Solutions, Altair
Lars Agerlin, Vice President R&D, Brüel & Kjær
The day was rounded off with a keynote speech on "The Future of Work", by Jeffrey Saunders (CIFS)
> Learn more about the Beyond Tomorrow project and read the project findings
"Now – for the future"
a glimpse of the presentation of the Beyond Tomorrow vision study on 4th December, 2017