Sound and vibration measurement consulting
Whatever sound and vibration challenges you face, we can add value by boosting your capabilities and capacity, improving your processes, and transferring knowledge and technology to your organization.
Our team of sound and vibration measurement experts operates globally. Projects can be conducted at the MSC Application Research Centre (ARC) in Detroit or at the Millbrook Proving Ground in the UK. Alternatively, our engineers can come on-site for short- or extended-period consultations.
Noise & Vibration Measurement Project support, recommendations and technology transfer
Achieving product goals and improving performance is not always easy. Making testing meaningful and turning results into actions can also be challenging. Whether it's for a short project or for an extended period, we can supply experienced engineers with specialist application knowledge and industry insight. We work to improve and optimize the noise and vibration performance of all products in all industries. By integrating our sound and vibration measurement know-how directly into your product development processes, we help you improve their effectiveness while together we find the answers you need. This includes:
Smart testing to identify sources and paths of noise/vibration troubleshooting)
Data-driven guidelines for countermeasures
Manpower and facilities for standardized tests
Sound and Vibration benchmarking measurements
Structural testing and support to correlate CAE models
Sound Quality and Vibration Quality metrics and models
Sound and Vibration Measurement method development
Vehicle NVH testing and analysis
In-lab vehicle NVH reproduction using simulators
Sound design for E/PHE vehicle interior and exterior
Vehicle program support through launch, including final presentations like vehicle driving evaluations and press events
In all these projects, we are eager to provide a Technology Transfer, with training and on-site resources to ensure that your own competences are strengthened – boosting the value far beyond one project.
Experienced Measurement consultants
Presently, we have more than 35 specialists dedicated to engineering service projects. With their troubleshooting expertise and product development services, we can bring our specialist knowledge and state-of-the art equipment and facilities to bear on your challenges. Our capabilities were boosted with the acquisition of Detroit-based engineering consultancy Sound Answers in 2015, when 13 experts joined Brüel & Kjær with extensive experience from diverse engineering services projects. In 2016, we acquired UK-based consultancy Sound & Vibration Technology Ltd., bringing extensive NVH engineering capabilities into Brüel & Kjær – as well as engineering and simulation facilities located at Millbrook Proving Ground.
The acquisition of German company Discom in 2016 strengthened our offerings at the end of production lines, bringing experience of supplying vibration test systems for acoustic quality analysis of automotive transmissions.
Our US Team: The MSC Application Research Center
The MSC Application Research Centre (ARC) in Detroit, USA, is our central facility for in-house engineering services. At the ARC, we have test and product development labs, engineering simulation facilities, test chambers and state-of-the-art testing hardware and software. In addition to the latest in test equipment and applications, this solution facility has dedicated expert staff on hand to help gain insights, find effective engineering strategies and train users.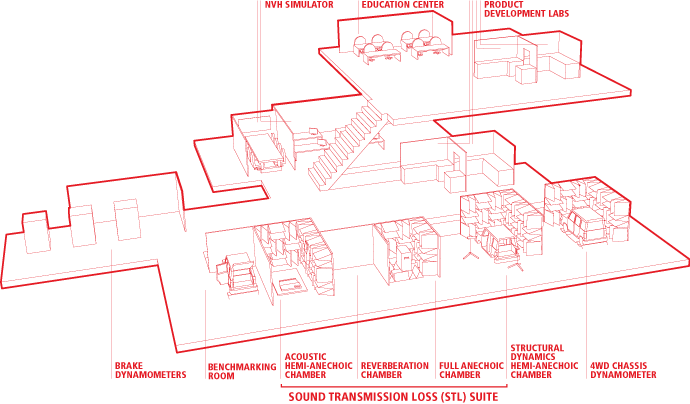 Our EU Team: Millbrook Proving Grounds
The majority of our European team is based at the Millbrook Proving Ground, in Bedfordshire, UK. At MPG, we have our state-of-the-art Full Vehicle Simulator, a hemi-anechoic chamber, hundreds of data acquisition channels and access to the test tracks for all types of vehicle testing. In addition, when needed, we can leverage the MPG testing systems and facilities for traditional and electric propulsion and drivetrain, from components and sub-assemblies to full vehicle.
| | |
| --- | --- |
| The MPG Track | The Full Vehicle Simulator |
Flexible project execution for Sound Measurement Services and Vibration Measurement Services
HBK Sound and vibration Engineering Services is unique in that we can deliver a customized mix of expertise, equipment and facilities, making us a cost-effective one-stop shop with flexible project options. We normally use HBK equipment and software, but we have experience with a wide range of non-HBK tools.
Here are some of the many projects we have delivered:


Subscribe to our newsletter and receive the latest stories from our world of sound and vibration
The latest news from Brüel & Kjær delivered to your inbox
New product releases, discounts and special offers
Sound and vibration articles, videos and guides
Subscribe now!
WAVES Online