With a background in virtual prototyping, VI-grade helps customers get the most out of system-level simulation. Bridging the gap between testing and simulation, the company recently patented the innovative Driver-in-Motion (DiM™) platform. It's a revolutionary design, with a cockpit built on nine hydraulic actuators to simulate the experience of driving a real vehicle. The nine actuators provide a large simulation workspace and make it possible to study both low-frequency vehicle dynamics and high-frequency ride, on the same motion platform.

Founded in 2005, VI-grade has its headquarters in Germany but all the product development happens in Italy. This is where contact with Brüel & Kjær was first established in 2013, with a shared customer – Ferrari.

Ferrari installed a Brüel & Kjær NVH Simulator to achieve engine sound targets rapidly and cost-effectively. At this time, VI-grade was also implementing a driving simulator in Ferrari's test lab, to simulate the experience of driving a new vehicle. Using a cylindrical widescreen to visually simulate the racetrack and the motion platform together with the NVH Simulator to provide fully accurate sound, Ferrari test drivers could experience and evaluate a car's handling and sound together – in a highly authentic context.
Guido Bairati, Managing Director at VI-grade, Italy, explains: "We realized that VI-grade had technology that we could share with Brüel & Kjær and vice versa. We could see that our experience, equipment, and knowledge could complement each other. The idea was to improve sound quality on the DiM™ and we started talking together to make this happen."
The result is that now the NVH Simulator technology is an integrated part of the DiM™ platform, offering customers a simulator that includes lower frequency vehicle dynamics, with advanced sound, as well as high-fidelity cockpits in which the driver can be exposed to high frequencies.
"The sound has now been enhanced in the virtual vehicle, offering the highest fidelity," explains Guido Bairati. "Sound plays such an important role in the driving simulator because it increases the realism and provides an overall improved and more realistic driving experience. The goal is to replicate the exact sound of the driving experience, as close to reality as possible."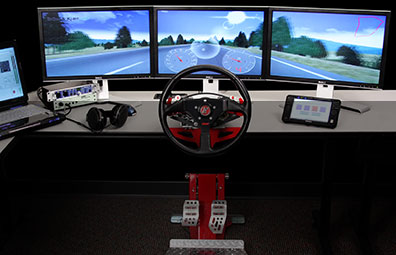 Testing different set-ups
In the advanced cockpit, VI-grade has also included vibration technology in the form of shakers and actuators from Brüel & Kjær to give a more accurate driving experience. The NVH Simulator enables vehicle design and development teams to use customer preference and satisfaction input, set accurate NVH targets, design with specific differentiation to competitors, and work efficiently with all NVH data throughout the development process.
A real-time, accurate dynamic vehicle model has been developed by VI-grade, in which key parameters, such as springs, dampers and tyres, can easily be changed, allowing test drivers to try new configurations on the same part of the track. Substantial time and money can be saved by not having to test physical prototypes. The DiM™ platform enables manufacturers to test vehicles on simulated test tracks with laboratory-like consistency, using both customer-specific tracks as well as a library of predefined tracks.
"The sound has now been enhanced in the virtual vehicle, offering the highest fidelity."
Guido Bairati - Managing Director, VI-grade
In this way, the integrated DiM™ platform helps to sort out problems early in the design cycle, allowing the testing of several different set-ups in one day and letting drivers hear how different configurations affect how the car sounds.

Simulating a collision
In real life, it can be difficult to replicate and test situations where a car interacts with other vehicles, for example, parking, lane changing, emergency braking or reacting to sudden manoeuvers. In the safe virtual environment, however, these situations can be tested in a con-trolled way, many times a day.

It's important that the driving experience is as realistic as possible, especially for tests that are too dangerous to perform live, for instance, simulating a collision or a puncture at high speed to see how the driver will respond. In these situations, a realistic simulation can be invaluable to facilitate the development of systems to help the driver stop the car safely.

Differentiator in the market
"Having the Brüel & Kjær solution as an integrated part of our DiM™ platform is unique in the market and positively differentiates us," explains Guido Bairati. "We're the only driving simulator offering such high frequencies and such a wide range of frequency solutions. The fact that the DiM™ is equipped with a unique sound and vibration technology makes this a fully integrated solution for customers in their design process. In today's competitive business environment, it's very important to work with reliable partners that allow us to offer a complete product offering and range of expertise."

In April 2016, Brüel & Kjær set in place a partnership agreement with VI-grade that allows VI-grade to promote and sell the SimSound™ software and support services as an integral part of the DiM™ solution. "Our auto-motive and motorsports customers have all responded very positively to our partnership with Brüel & Kjær," says Guido Bairati. "They have confirmed to us that this integrated solution refines and expands the system, significantly expanding the value for them by providing a superior driving experience whilst increasing the range of possible applications. This approach already proved to be successful, since recently, two major automotive companies purchased DiM simulators in conjunction with SimSound technology. Both simulators will be ready for operation in the first half of 2017."