Health and usage monitoring systems (HUMS)
Health and usage monitoring systems (HUMS) are being used more frequently in monitoring critical helicopter gearboxes and also, increasingly, for gas-turbines – both in helicopters and in certain fixed-wing aircraft.
Vibration monitoring is a well-proven method for preventing catastrophic failures of rotating components, with the piezoelectric accelerometer proving to be the best sensor for these applications
HUMS accelerometers typically have very specialized performance and reliability requirements. Strict development and production standards such as AS/EN 9100 and environmental standards, such as DO-160 'Environmental Conditions and Test Procedures for Airborne Equipment' must be adhered to, together with aircraft specific requirements.
Suggested system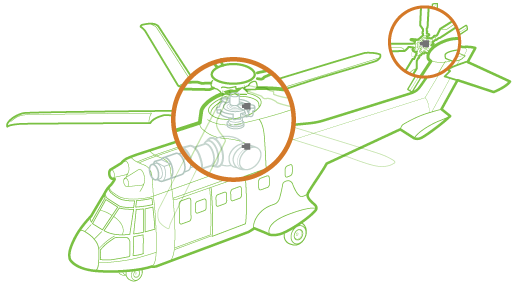 Brüel & Kjær supplies a range of HUMS and engine-monitoring accelerometers, whose design is focused on guaranteeing a highly robust and highly reliable sensor. Sensors must operate continuously in demanding environmental conditions yet be sensitive enough to be able to detect incipient bearing and gear failures. Size and ease of mounting are equally important considerations for these applications.


Subscribe to our newsletter and receive the latest stories from our world of sound and vibration
The latest news from Brüel & Kjær delivered to your inbox
New product releases, discounts and special offers
Sound and vibration articles, videos and guides
Subscribe now!
Read WAVES Online