Sound Level Meter / Noise Meter
Sound level meter instruments and analyzers by B&K are designed for class 1 measurement accuracy, ease-of-use, and unprecedented flexibility. In fact, our latest generation of sound level meters can be directly operated through smartphones, and with the addition of our feature-expanding sound level meter apps, you can customize your instrument to any task.

It's been over 60 years since Brüel & Kjær invented the world's first portable sound level meter. And we still lead the industry today.
B&K 2245 SOUND LEVEL METER
With NOISE PARTNER
B&K 2245 sound level meter is an easy-to-use solution for dedicated noise measurement tasks. The instrument comes with a range of apps, each tailored to provide functionality for your specific job-to-do.
Read More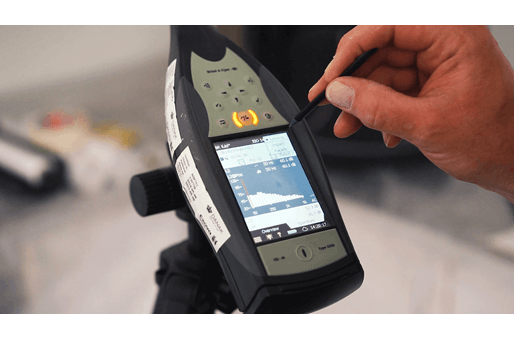 B&K Type 2250 and Type 2270
Sound Level Meter / Analyzer
Providing an award‐winning design based on extensive research among technicians, engineers and consultants, B&K Type 2250 and Type 2270, are both equipped to handle the most demanding measurement tasks.
While Type 2250 is a single-channel instrument, Type 2270 features two channels for simultaneous sound and vibration measurement.
BUYERS GUIDE
THINGS TO CONSIDER BEFORE CHOOSING YOUR SOUND LEVEL METER
WHAT IS A SOUND LEVEL METER
A sound level meter is an instrument (commonly hand-held), designed to measure sound levels in a standardized way.

Commonly referred to as a noise level meter, noise meter, decibel meter, SPL meter (to name a few), a sound level meter is designed to respond to sound in approximately the same way as the human ear. The purpose is to give objective, reproducible measurements of sound pressure levels.
HOW TO USE A SOUND LEVEL METER
A sound level meter is often used to measure and manage noise from a variety of sources, such as industrial plants, road and rail traffic, and construction work.

With the addition of typical urban situations, such as sports events, outdoor concerts, parks, and residential- or commercial neighbors, all different sound sources have different characteristics, which that pose specific problems for the professionals assessing them.
The listed articles below detail the most common use-cases:

HOW DOES A SOUND LEVEL METER WORK?
A sound level meter comprises a microphone, a preamplifier, signal processing, and a display.
The microphone converts the sound signal to an equivalent electrical signal. The most suitable type of microphone for a sound level meter is a condenser microphone, which combines precision with measurement reliability.
The electrical signal produced by the microphone is at a very low level and must be enhanced by a preamplifier, before reaching the main processor. Signal processing includes applying frequency weightings and time weightings to the signal as specified by international standards such as IEC 61672 – 1, which a sound level meter complies with.

THE DISPLAY
The display (typically an LED display) shows the sound level in decibels together with a description of the selected time weighting and frequency weighting (LAeq or LCpeak).

The signal may also be available at output sockets in either AC or DC charge, which is typically used in connection to external instruments such as a data acquisition system providing a record for further processing.