Sound Level Meter - Noise Level Meter
Sound level meter instruments and analyzers by Brüel & Kjær are designed for class 1 measurement accuracy, ease-of-use and unprecedented flexibility. In fact, our latest generation of Sound level meters can be directly managed via smartphones, and with the addition of our feature-expanding applications, you can customize your sound level meter to any measurement task.

It's been over 60 years since Brüel & Kjær invented the world's first portable sound level meter. And we still lead the industry today.
B&K 2245 SOUND LEVEL METER
WITH NOISE PARTNER
B&K 2245 sound level meter is an easy-to-use solution for dedicated noise measurement tasks. The instrument comes with a range of apps, each tailored to provide functionality for your specific job-to-do.
Read More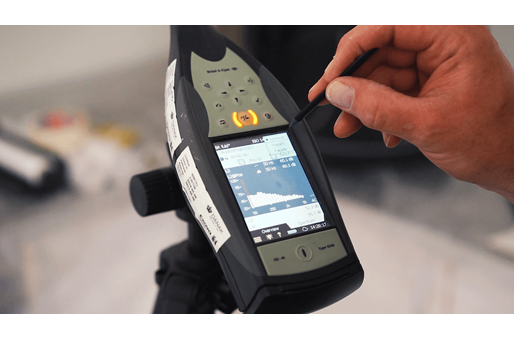 B&K Type 2250 and Type 2270
Sound Level Meter / Analyzer
Providing an award‐winning design based on extensive research among technicians, engineers and consultants, B&K Type 2250 and Type 2270, are both equipped to handle the most demanding measurement tasks.
While Type 2250 is a single-channel instrument, Type 2270 features two channels for simultaneous sound and vibration measurement.
What is a sound level meter?
A sound level meter is an instrument designed to respond to sound in approximately the same way as the human ear. The purpose is to give objective, reproducible measurements of sound pressure level (SPL).
The terms sound level meter and noise level meter are commonly used to describe the same instrument. The principal difference, when talking about sound level meters, is the classification of measurement accuracy, as defined by international standards. Naturally, all Brüel & Kjær sound level meter instruments comply with the highest national and international standards.
To learn more about the basic terms and definitions, check out our Sound and Vibration Glossary
How to use a sound level meter
Our sound measuring instruments are used across of industries and applications, such as:
Over the years, Brüel & Kjær has created a wealth of primers and in-depth guides covering almost all subjects related to sound and vibration measurement. As a company, we believe in sharing knowledge, as such we have collected all of them and made them available for download - absolutely free of charge.

To gain access to the library, please visit and sign-up on our Knowledge Center.