Environmental monitoring for compliance
To maximize your operations inside current environmental-emissions limits, you need to know what your emissions are while you are operating.
In our shared environment, a balance must be struck between activities such as mining, wind farming, and outdoor events, and respecting the need for peace and quiet of people nearby. Government agencies take the lead in managing environmental emissions like noise, vibrations and dust, by setting restrictions that require planning permission and specifying emission limits. To comply with these, and avoid fines or delays, businesses need environmental monitoring for urban and industrial areas.
Maximizing operations within limits
To maximize operations within environmental-emissions limits, one must know what the emissions are while operating. Spot-test measurements of noisy industry with a sound level meter, or of vibration with a hand-held analyzer, can provide simple ad hoc levels. Longer, deployed measurements can be made with temporary or permanent monitoring stations. With real-time emissions monitoring, it is possible to increase or decrease operations, so the emissions 'quota' can be "filled" safely as warning alerts will be delivered before any limits are breached.
Demonstrating environmental compliance
To demonstrate environmental compliance, it is essential to be able to display a recorded history of noise or vibration levels, whose veracity is beyond reproach. For a mining company to prove that it isn't exceeding noise restrictions or that noise complaints are driven by different noise sources, it is necessary to have well-placed, calibrated instruments that feed data to a centralized monitoring station. And to help engage the public and allay any fears, it is helpful to display levels online so they can investigate for themselves.
Business such as construction companies, power stations, mines, waste management facilities, etc., are often required to perform continuous, unattended noise monitoring to prove noise regulations are being adhered to.
Sentinel provides long-term, unattended environmental monitoring and management to help customers maximise operations while minimising community impact. The versatile web-based subscription service is designed to reliably manage and report noise, vibration, dust and air quality compliance.
Sentinel On Demand is a short-term, quick-response, unattended environment compliance monitoring service. Ideal for noise consultants and public authorities, the self-service online system removes complexity from noise monitoring projects and includes everything you need. Subscriptions are on a month-to-month basis with no long-term commitment.
System suggestion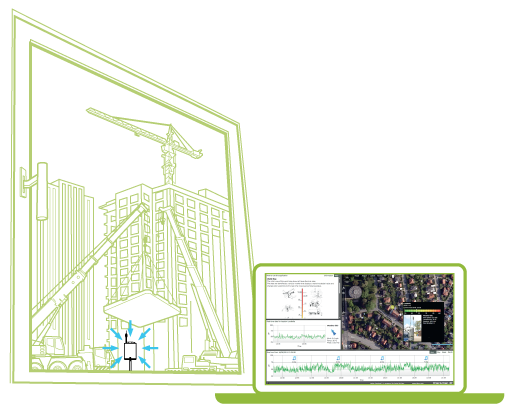 Sentinel enables you to monitor and manage your real-time environmental impact in urban and industrial areas. Report regulatory compliance and gain approval of planned changes while communicating more transparently with stakeholders. A subscription to the web-based managed service includes:
Instrumentation, installation, commissioning and testing
Data collection, recovery, storage and processing
Report generation and distribution
Ongoing fault fixing, data collection checks, preventative maintenance and calibration
Instrumentation recovery and data transfer at the conclusion of your subscription
> Maximizing efficiency by managing environmental impact (Brochure)
> The Crossrail Project, London – C501 Moorgate Shaft (Case study)
> Monitoring port noise levels to reduce community impact (Case study)
> Understand how Sentinel works (YouTube)
> Sentinel - Environmental compliance monitoring (Types 7871 and 7872)
Prior to any form of construction product or engineering work, typically an independent consultancy will be hired to perform an environmental noise survey. The environmental noise survey is often, but not always, part of an Environmental Impact Assessment (EIA). The noise source in question is often road or rail traffic or industrial noise. Any large civil engineering project will require an EIA.
Suppose an entrepreneur would like to build residential housing on a plot of land by a railway track. Before construction begins, the noise levels from the railway track need measuring so that the apartments are built in compliance with local noise legislation and the entrepreneur can assess which building materials he needs to use to keep indoor noise levels compliant.
The noise survey will often require both short-term attended noise measurements for background noise levels and computer modelling.
System suggestion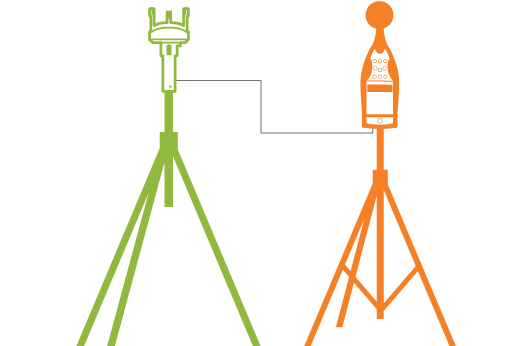 Hand-held Analyzer Type 2250 enables you to perform high-quality attended noise measurements using BZ-7225 enhanced logging software, BZ-7226 for signal recording and Measurement Partner suite BZ-5503 for post-processing. Where weather conditions on site need recording, Brüel & Kjær weather station kits MM-0316-A (for wind speed and direction only) and MM-0256-A offer a turnkey solution.
> Hand-held Analyzer Types 2250 and 2270
> Measurement Partner Suite BZ-5503
> BZ-7225 - enhanced logging software
> BZ-7226 - signal recording option