Telecom Audio Engineering Services
Are you getting ready to put your new mobile device, microphone, headphone or speaker into production but require assistance in designing the test stand and fixturing to ensure consistent audio quality?
We can help
Ensuring consistent product audio quality of your mobile phones, MEMS microphones, headsets, speakers or AI devices is an increasingly challenging and time-consuming task.
You can save time and ensure quality by letting us help you optimize, or design (from-scratch-to-completion) your acoustic test set-ups and accurate fixtures.
The Telecom Audio Engineering Services team offers a skill set that includes acoustics, vibration, simulation and mechanical design – all core Brüel & Kjær competencies based on over 75 years of experience.
We offer
Consultation
We provide on-site or online pre-evaluation of designs and project proposals
State-of-the art acoustic development and optimization
We help you meet your customers' expectations of high-fidelity audio from the mobile devices that have become essential to their everyday lives
We make all our capabilities in accurate fixturing, analysis techniques and tight measurement control available to you
Benchmarking tests
We have the equipment and experience to perform quality and environmental tests on microphones and speakers
Installation
We will install and validate the fixtures and get you up and running
After sales service
We provide after sales service to ensure that you are satisfied with our recommended solutions and that they continue to live up to your expectations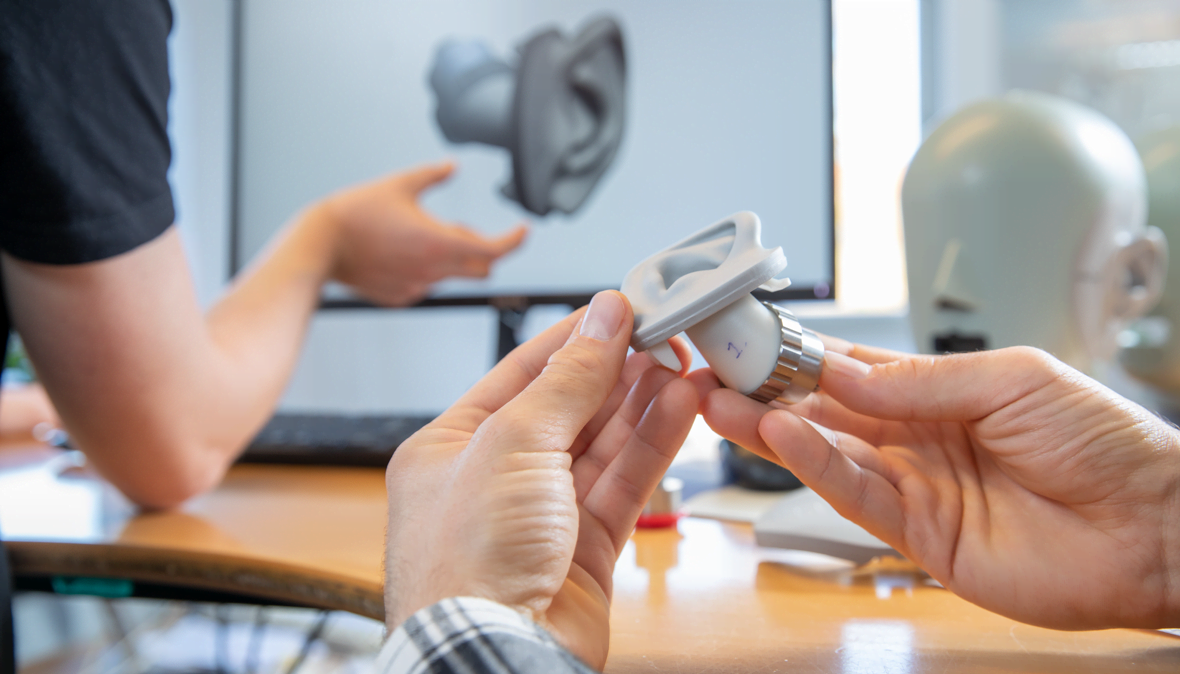 Why choose Brüel & Kjær Telecom Audio Engineering Services?
Quality control and testing are our core expertise
You will benefit from our knowledge of sound and vibration test solutions for quality control and production testing
An experienced and dedicated team
You will work with world leading experts within acoustics and vibration
You will work in close cooperation with us, ensuring the shortest project execution time
You will benefit from Brüel & Kjær's long history of collaboration with major telecom and audio customers worldwide
The right equipment for the job
Make the most of the world's largest range of sound and vibration products and systems – from best-in-class measurement microphones, to couplers, hardware and software
Easy and transparent process
From fast pre-evaluation, through simple improvement of existing designs to complex new designs, our range of services are categorized into predefined levels of complexity
Each project is divided into three phases, quoted at a fixed price based on complexity
The lead time is made clear at the beginning of the project
After two weeks, you will already have access to a conceptual design
Looking for other engineering services?
As the Telecom Audio Engineering Services is a small dedicated team, its focus is solely to assist customers in ensuring high-quality acoustic/vibration design or optimization of couplers, test fixtures, or complete turnkey systems for production test of mobile phones, headsets, speakers, AI and other Telecom/Audio devices.
If your needs are not covered here, please go to our Engineering Services page and read more about our troubleshooting expertise and product development services.


当社ニュースレターを購読すると音とバイブレーションの世界からの最新情報を取得できます。
最新のブリュエル・ケアーからのニュースをメールでお届けします。
新製品情報、セールやキャンペーンなどの情報
音響・振動の記事、ビデオや情報
購読申し込みはこちら!
WAVESオンライン