Preconfigured software packages
Complete data acquisition and signal analysis packages, with low channel-counts and built-in support, to give you an easy start on acoustic and vibration testing.
Our general-purpose signal analyzer packages are low-channel count analysis systems with easy-to-use software, together with suitable data acquisition hardware. We call them packages because they include data viewing and management software for PC, and a maintenance agreement that keeps your software up-to-date and gives you access to our knowledgeable support team.
The systems acquire data from a few input channels of transducers, evaluate measurements, analyze data, and make reports. The software is preconfigured for typical acoustical or vibration test requirements, so each package contains all the basic tools you need to begin sound and vibration testing and analysis, from in-field recording or laboratory analysis through to reporting results and archiving your data.
MANAGING YOUR DATA IS CRITICAL
Even systems with fewer than 12 channels generate a lot of data. Managing it effectively is what gives long-term value to your testing. The intuitive data management and viewing tools in each package make it easy to archive results and get an overview of thousands of tests, for easy data comparison.
USE SCENARIOS
Basic vibration or noise investigations to troubleshoot product noise issues in operation, such as the sound from household appliances or power tool vibration
Analysis of rotating machinery, such as gearboxes, powertrains, compressors, washing machines, fans and pumps, to diagnose faults and isolate noise sources
Automotive NVH (noise, vibration and harshness) investigations, including binaural recording and sound quality metrics, to perfect vehicle sound quality
Quality assurance sample testing, such as repetitive batch testing on white goods and consumer electronics production lines, for unskilled or non-expert users
Basic structural analysis in the laboratory, such as resonance testing with a hammer on engine components or machine parts
Noise measurements to standards, including IEC 651, IEC 61672, IEC 60804 for Class 1 instrument, IEC 61260-1995 Class 1, DIN 45651, ANSI S1.11–1996, ANSI S1.11–2004, ECMA 74 and ISO 7779
COMPLETE SYSTEMS TO SUIT YOUR NEEDS
Each of our complete measurement and analysis systems offers several combinations of features and options, such as various types of fundamental analysis, recording capabilities and channel capacity.
PHOTON+™ is an entry-level analyzer system for real-time data analysis, time data recording and post-processing analysis. Unlike the other systems, this cannot be expanded to perform more advanced analysis tasks. It features up to four channels, with the option of an extra analogue input and FFT-based (fast Fourier transform) order analysis.
> See how PHOTON+ works (YouTube)
Sonoscout™ is an intuitive, portable system for recording and in situ analysis and evaluation, and part of our extensive, flagship LAN-XI data acquisition hardware range. Record to iPad® or SD™ card and then export to PC for easy viewing, comparing, FFT-based order tracking, managing data and reporting of results. Choose up to 12 channels.
> Learn more about Sonoscout (YouTube)
The intuitive PULSE Reflex™ or PULSE™ LabShop systems offer real-time or post-recording analysis and time editing options. They all include software for easy viewing, comparing, data management, and reporting of results with embedded Microsoft® Word, Microsoft Excel® or PowerPoint®. These systems allow simple customization and automation, and offer extensive online help and how-to videos.
With our PULSE packages, we offer many configurations to suit specific needs. Select the capabilities you need and contact us for more information.
Lear more about the PULSE packages and the capabilities they offer:
> The value of PULSE preconfigured packages (YouTube)
> Real-time measurements (YouTube)
> Real-time measurements and recording (YouTube)
> Time data recording (YouTube)
> Basic post-processing (YouTube)
> Data management and reporting (YouTube)
OVERVIEW OF OPTIONS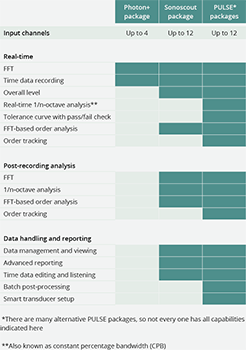 Click on the image to see an overview of the options
BUILD YOUR OWN SYSTEM
Our small analysis systems have everything you need to start measuring right away. And because both software and hardware are modular, you can easily build upon them should you need more. As entry-level analysis systems, they provide a foundation in the PULSE platform's extensive capabilities.
CONTACT US
For help choosing the system that best suits your needs, and for more information, contact us.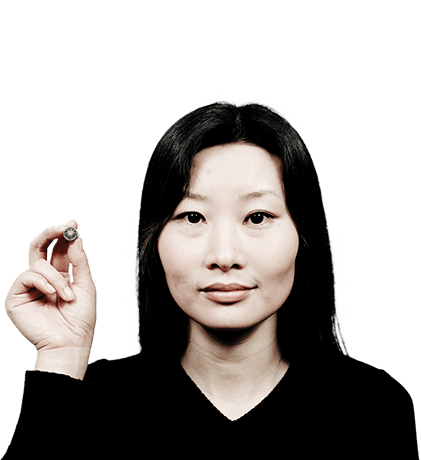 전세계 소음, 진동에 대한 다양한 정보가 담긴 뉴스레터 'Waves' 구독하기
이메일로 바로 받을 수 있습니다
사업별 다양한 정보가 있습니다
풍부한 고객 사례연구(Case)가 있습니다
뉴스레터 구독하기
최신 Waves 보기