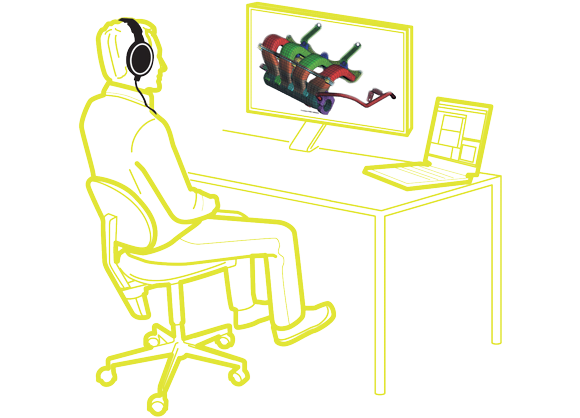 LEARN MORE
CAE AUDITIONER
Vehicle developers must consider NVH earlier and earlier, so CAE analysts are doing more and more virtual prototyping. Yet they must effectively interface with real-world testing.
Virtual prototypes and previous-iteration vehicles must be tested and give input and feedback into CAE models. But if the collaboration is to be effective, the dialogue must go both ways.
This is where auditioning the sound and vibration characteristics of CAE models comes into play – helping merge the spheres of testing and CAE.
Speeding up the process for CAE Designers and Analysts
Brüel & Kjær's software enables CAE designers to rapidly process their latest design into a highly authentic sound model, so they can experience how the whole vehicle would sound with that newest component installed. Consequently, their fellow CAE analysts and test engineers can listen to the very latest iteration, or hear alternative prototypes back-to-back, and evaluate them with nothing more than their ears –providing a valuable subjective evaluation to supplement graphs and curves.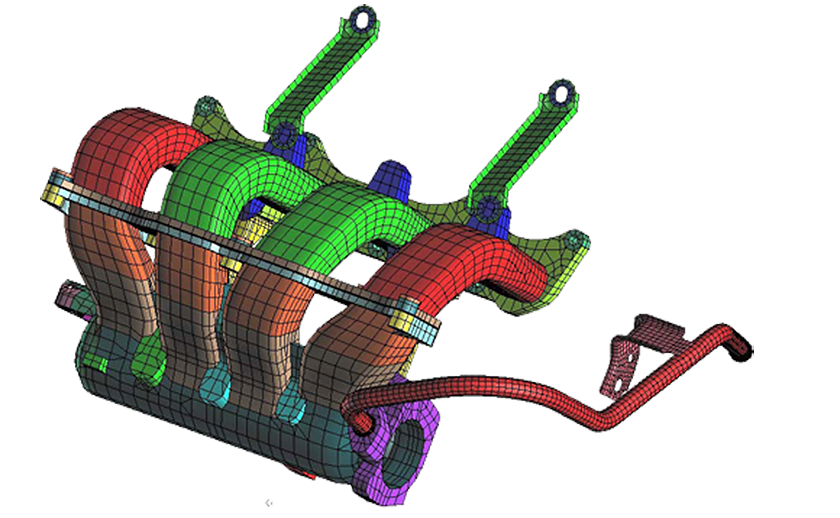 Because the system operates equally well with tests and/or CAE data, combinations of these can be used. So real-world data measured on a prototype can supply the sound sources, such as the drivetrain, and then CAE data can be used for a vibration path transfer function – such as a newly designed engine mount.
Listeners can hear vehicles in different modes of testing, such as constant speed, Wide Open Throttle / Overrun, or any other test profile. Then, on the screen, they can view up to nine detailed contribution diagrams of the sound, to help identify the most important contributions. They can synchronize the readouts for different design alternatives, making it very easy to perform A-B comparisons. They can also interact with the sound files by applying filters, to tailor the sound to produce the desired effect.
The key to this new capability is the CAE Auditioner from Brüel & Kjær. This takes seconds to convert files from major CAE design codes into sound models. Then, with Brüel & Kjær's Time Insight user-interface, an analyst can listen to and compare the sound profiles, to audition their sound models from the ease of their desktop.
In use, analysts can listen to the vehicle sound, and identify critical frequencies, speeds, and RPM. They can also modify source strengths and paths, and evaluate the results. This gives effective, targeted feedback into their design processes, accurately indicating which part should be updated.
To take advantage of the inherent strength of CAE models at predicting changes, the software features a change modeling capability. This takes the difference between design iterations and applies it as a filter, giving a highly accurate impression of the relative effect of design changes in CAE – rather than absolute values calculated purely in a CAE program.

LEARN MORE
NVH (NOISE, VIBRATION, AND HARSHNESS)
When people from different departments are involved – such as testers, management, and designers – with all of their particular languages and approaches, an intuitive method of evaluation like this is invaluable for rapid and effective communication. It also allows non-experts to get involved in early decision-making because they can make subjective evaluations. And by joining CAE and NVH, it helps test engineers from both areas to share and develop their ideas together, improving confidence.
With better decision-making in less time, more effective NVH process results, where designers of all disciplines can make the best use of all data at all times.