About Kockums AB
The Danes haven't always been on the best of terms with their neighbors in Sweden! The late1600s were troubled times in the Baltic. Having conquered the provinces of Skåne, Blekinge, and Halland from Denmark, the then Swedish King Karl XI realised that he needed a naval base in the south of Sweden to defend these new acquisitions. Therefore, Karlskrona was founded in 1679 as a naval base and shipyard, later to merge with neighboring Kockums in Malmö to form Kockums AB. Kockums is now part of ThyssenKrupp Marine Systems.
Kockums stands for cutting-edge, world-class naval technology – above and below the surface. They design, build and maintain submarine sand naval surface vessels that incorporate the most advanced stealth technology. Materials, however, have changed somewhat over the company's 300 year-long history. From oak and canvas to armored steel and now composite materials – carbon fibre reinforced plastics that provide high strength and rigidity, low weight, good shock resistance, low radar signature, and low magnetic signature.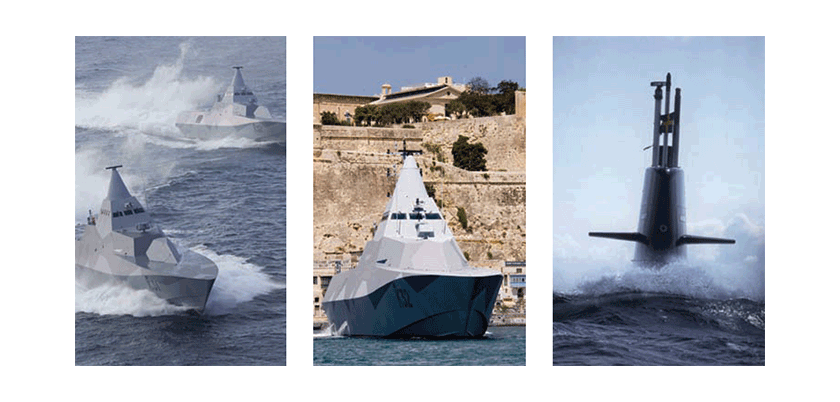 Products from Kockums where measurements of noise, vibration, and shock response are important for successful designs
Material Shock Testing using PULSE
Composite materials offer great advantages over traditional steel and aluminium – lighter, stronger and nowhere near as easy to detect! Testing these materials plays a vital role in the development process – proving their strength and better performance.
A good composite design requires sophisticated analysis work. The preferred way to perform the structural analysis is to base it upon measured values obtained from experimental data and gained experience. Using PULSE, Kockums can make full-scale explosion shock testing to provide important input for design parameters.PULSE Time Data Recorder captures the measurement, while LabShop does the post-analysis.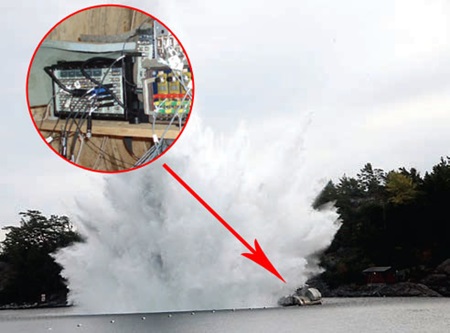 Shock testing of composite materials involves lowering test materials underwater and detonating a several hundred kilo mine at just a few metres distance! Attached to the material under test is a specially sealed, watertight container, inside which sits PULSE. Accelerometer, strain, and pressure measurements give the test engineers valuable information on the composite materials, shock performance
Measurements and Analysis in Submarine Design
Kockums has a long and successful track record in the design of stealth submarines – and PULSE has been helping them along the way. PULSE is used to perform the many and varying types of measurements and analysis necessary– structural vibrations from different types of machinery, pressure pulsations in cooling systems, and airborne noise measurements.
As the submarine is designed to withstand very high shock levels, all new submarines from Kockums undergo severe full-scale shock tests. Also, in these types of measurements, Brüel & Kjær's PULSE system is used, and parameters such as strain, acceleration, pressure and displacement are recorded and analysed.
Ola Borgquist, Head of Signature Management Department at Kockums sums up why Brüel & Kjær's PULSE was chosen for the company's exacting and sophisticated tests, "We chose Brüel & Kjær because we can always rely on getting good support when we need it.We can also rely on the products performing according to specifications".