Developing a commercial jet airliner is a project so complex that only a handful of companies have managed it. But in a land where a challenge and an opportunity are the same thing, just because they haven't doesn't mean they can't. COMAC's medium-range C919 jet will enter the lucrative 'narrow-body' market, which covers more than half of the air-craft in service, and where Boeing and Airbus have long enjoyed a 'duopoly'.
"The impact of the engine's noise during cruise is hard to predict, and the methods are not well proven. So just a simple task like meeting specifications is difficult."
Cyrille Breard - C919 Noise & Emission Manager, COMAC
The resources required are huge: 10 billion dollars is the ballpark figure according to industry analysts. After teams of designers refine the concept of a new aircraft like the C919, there are in-depth aerodynamic studies in wind tunnels. New, weight-saving materials and construction techniques need testing and proving. Then there are integrations of hundreds of thousands of physical parts and millions of lines of software code.
COMAC must then prove the aircraft's readiness beyond doubt, in a demanding test programme that sees ground vibration testing (GVT) followed by engineering flight tests and noise certification. And all this while keeping the whole programme to a schedule where months cost millions.
Cruising for a bruising
Of the many physical forces that aircraft contend with, the effects of sound alone need significant testing. As interior noise is increasingly important to aircraft buyers, manufacturers compete on passenger comfort levels. But perhaps more importantly, manufacturers must prove their aircraft against the damage from acoustic energy.
'Sonic fatigue' is caused by the energetic sound waves from an aircraft's engine beating against the structure's components and flexing the joints between materials. Over the plane's lifespan of 60,000+ flight cycles, the tiny, progressive cracks from this process degrade the plane's structure to such an extent that catastrophic damage can result. Since most hours in the air are spent at cruise, it is during this calm phase that both sonic fatigue and interior noise are critical.
A leap of faith
COMAC has designed the C919 for this, basing the noise transmission and structural build on predictions of the engine's emissions at cruise. But not only is COMAC building an all-new aircraft, they also have an all-new engine: the LEAP-1C. This means they had to design the new aircraft based on predictions of the engine's acoustics – before any engines were available.
However, predictive modelling is no easy challenge. As Cyrille Breard, C919 Noise & Emission Manager at COMAC says: "The impact of the engine's noise during cruise is very hard to predict, and the methods are not well proven. Despite being the longest period of the aircraft mission, cruise evaluation methods are not well documented or validated. They are not commonly published or even understood. So just a simple task like meeting specifications is difficult." Added to this, COMAC is building and refining their predictive models without the decades of historical data that its competitors enjoy.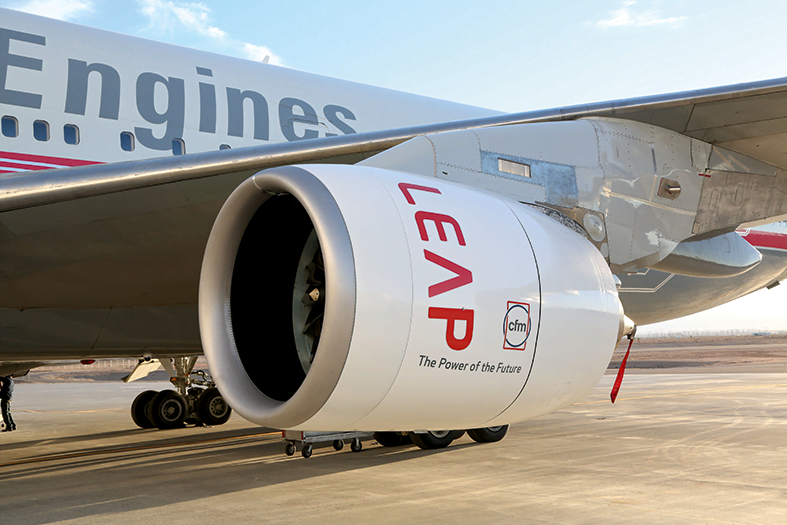 The LEAP-1C is the variant of the LEAP designed specifically for the C919 by CFM International: a joint company comprising General Electric Aviation and Snecma
One ride on the flying test bed
Naturally, COMAC was keen to check the engine's emissions in the real world, so as soon as an opportunity arose, they grabbed it. The engine's makers had scheduled a battery of flight tests on the LEAP-1C. For this, General Electric Aviation mounted the engine on their Flying Test Bed: a special Boeing 747 for testing new technologies. COMAC's budding flight-test department mounted surface microphones on the fuselage, to characterize the engine's acoustic emissions onto the structure.
"For sonic fatigue, the coupon tests could last a year. The earlier we could predict sonic loading during flight, the earlier we could define the test cycle."
Cyrille Breard - C919 Noise & Emission Manager, COMAC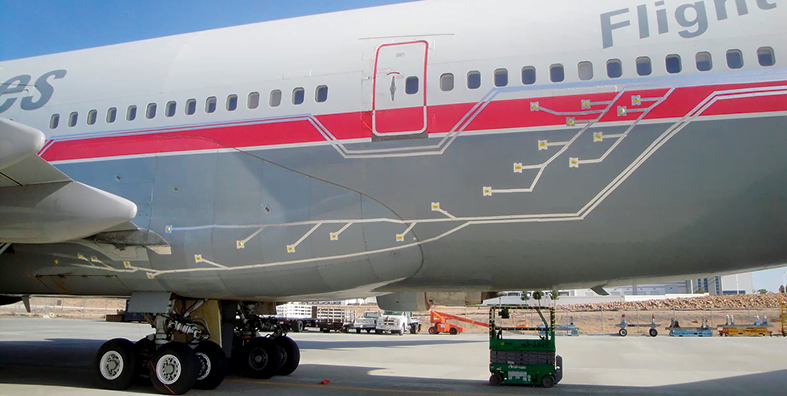 The surface microphones on the outside of the aircraft fed data through a false window and into a LAN-XI data acquisition system. This recorded data using battery power, and avoided interfering with any of the plane's systems. The IRIG-B time code it attached to the acoustic data allowed it to be precisely synchronized to the aircraft's recorded data, for easy correlation to flight operations, such as engine speed.

In a packed test programme, COMAC had just this one flight to work with. "We needed to get it done the first time we used it," says Cyrille. They also had new instruments to operate, and inexperienced testers. "This was one of the first tests for our flight test engineers," says Cyrille, "We'd had Brüel & Kjær training in Shanghai, but we also wanted to have a Brüel & Kjær specialist on site. We got two! During the pre-flight check, the specialists were meticulous in explaining the calibration and installation of surface microphones. They also solved a connector issue; it seems that anything can be connected to LAN-XI. So we felt comfortable and ready."

LEARN MORE
LAN-XI DAQ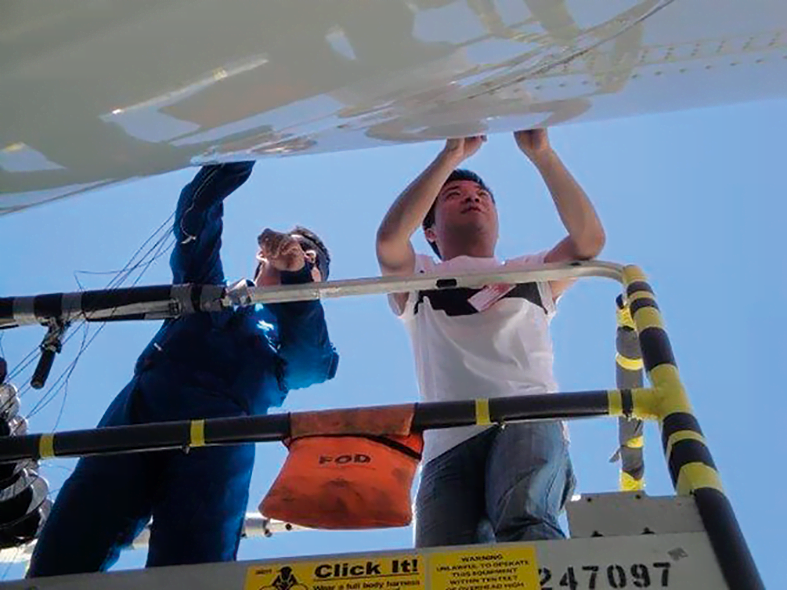 COMAC's Liu Peng and Pang Mingbao attach surface microphones, that are designed to withstand the full operating envelope: Mach 0.8, 40 000 ft, and –55°C, as well as de-icing sprays
Removing the 747
The test successfully assessed the preliminary noise level of the LEAP-1C during cruise. However, to bring the flight-test data back to China and apply it to the C919, Cyrille's team needed to isolate acoustic phenomena in the data. "The fuselage is exposed to two types of noise: engine noise and turbulent boundary layer noise," says Cyrille. Since the test was performed on a Boeing 747, they needed to eliminate that aircraft's turbulent boundary layer noise. "Separating the two types of noise is crucial for specification compliance and for evaluating transmission into the cabin," continues Cyrille. "Such tasks rely heavily on predictive tools, which flight tests like these enable us to validate, increasing the confidence level in the contribution of each component."
As well as validating their estimations of the C919's sonic loading, COMAC could determine the remaining risk level and define mitigation plans. They could also begin testing the aircraft's materials for sonic fatigue resistance and noise transmission. "For sonic fatigue testing, the coupon (material sample) tests could last a year. The earlier we could predict sonic loading during flight, the earlier we could define the test cycle," says Cyrille. "Having representative flight test data as early as possible is crucial during a development programme."
"Most of our flight test engineers have just graduated, and practical experience was critical for the success of this test campaign."
Cyrille Breard - C919 Noise & Emission Manager, COMAC
Certified experience
Crucial to the aircraft's flight certification, the test marked the beginning of COMAC's efforts to gather evidence for the regulator CAAC, to prove the structure's ability to resist the forces of sonic fatigue over the aircraft's expected lifetime. "We needed a good mapping of the sonic loading," says Cyrille.
With a successful flight test under their belts, COMAC's new flight-test department is now more experienced. "Most of our flight test engineers have just graduated, and practical experience was critical for the success of this test campaign," says Cyrille. "Brüel & Kjær was present during all phases, from hands-on training, to calibration and installation in the USA, to pre-flight checks, to the post-flight briefing and feedback session. We got tremendous support."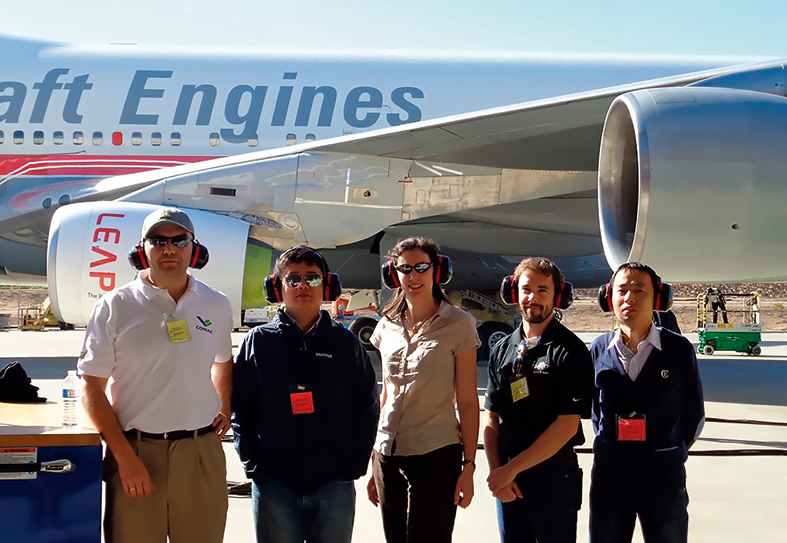 Under Brüel & Kjær's guidance, COMAC became comfortable with their instrumentation during high-stakes testing. From left: Cyrille Breard (COMAC), Sun Yifeng (COMAC), Helene Orsi (CFM/Snecma), Tony Spica (Brüel & Kjær), Huang Chunxin (COMAC)
About COMAC
Established in 2008, The Commercial Aircraft Corporation of China (COMAC) is an airframe supplier focusing on aircraft design, final assembly and manufacture of aircraft, marketing and customer service, and the acquisition of certification
COMAC has the certification success of the COMAC ARJ21 regional jet to build on, and is scaling up that knowledge for the C919
In 2015, COMAC began establishing a flight test centre near the Dongying Shengli airport in Shandong province
By working with international specialist suppliers, COMAC is gathering the experience to produce and test their own large jet
China's jet market
China is currently the world's second largest market for air travel and increasing rapidly – by over 400% since 2000
The industry expects that in 20 years' time, the Chinese internal air travel market will overtake the US domestic market
Various predictions expect that around 30,000 new commercial aircraft will be needed over the following 20 years – roughly double the current fleet of around 17,500
Most of these will be short/medium-range jets like the C919
About 4,700 of the expected new aircraft, valued at about $500 billion, are likely to be delivered to Chinese carriers, which are expected to fly 15% of the world's total compared with 9% today (Wall Street Journal)
The newcomer's certification challenge
Newcomers to the aircraft market face a tougher route to certification than established competitors. All manufacturers must prove their aircraft can safely withstand the effects of sonic fatigue over their complete life cycle according to FAA's safety standards in 14 CFR Part 25.271. Established plane makers can prove this by demonstrating that a similar aircraft has enjoyed a fatigue-free life cycle. But COMAC must demonstrate – with full-scale fatigue test evidence – that widespread fatigue damage will not occur within the design's service goal of: 60,000 flight cycles.




Inscreva-se em nossa Newsletter e receba as últimas histórias do nosso mundo de ruído e vibração
As últimas notícias da Brüel & Kjær entregues na sua caixa de entrada
Lançamentos de novos produtos, descontos e ofertas especiais
Artigos, vídeos e guias sobre ruído e vibração
Assine agora!
WAVES Online