Top image: Borla positioned their exhaust sound simulator in the most noticeable location within their SEMA display to entice enthusiasts and encourage them to hear and feel how different exhaust notes change the character of the car.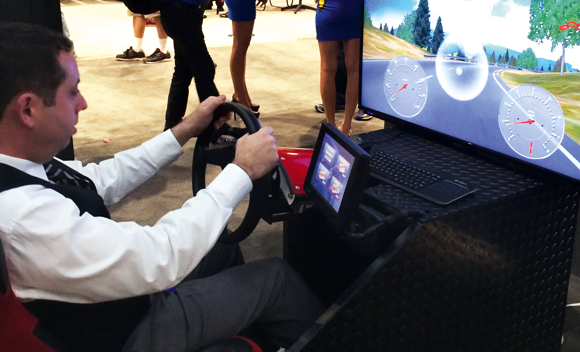 David Borla VP, Sales & Marketing Borla Performance Industries
The sounds our exhaust systems deliver are truly distinct. It's what matters most to the people who buy our products, and it's among the benefits we are known for. However, it has always been a challenge to demonstrate to our customers how the sound we create is critical to the relationship between a car and its driver. But now, thanks to a collaborative development project with Brüel & Kjær, an exciting solution has been found in the Borla Driving Simulator that was a big hit at the 2014 SEMA Show.
It's not just sound – it's connection
Our customers are primarily automotive enthusiasts and competitive racers. Their needs are diverse, but at the end of the day, one thing they all want from their exhaust system is the right sound. Much like with music, however, the precise qualities this sound must have are very subjective and have a huge effect on the individual's driving experience.
For example, with competitive racing, timing the perfect shift can depend greatly on hearing the engine's pitch, and that shift could be the deciding factor separating first from second place. For everyday road drivers, the sound their car makes can greatly influence how they drive, how much they enjoy the ride and, of course, how they themselves are perceived.
Modelling "the Sound of Borla"

LEARN MORE
NVH SIMULATOR
Getting this just right is something Borla has been refining into an art for over three decades. In fact, people today even refer to 'the Sound of Borla' as the benchmark of exhaust note quality. Our new relationship with Brüel & Kjær has resulted in even more sophisticated modelling technologies, enabling us to streamline our development process.

We are also using new measurement and analysis techniques to bring a higher level of precision to what we do by going deeper into the mathematics and theory behind it. In short, Brüel & Kjær is helping us utilize advanced technology to understand what we do to a greater degree than ever before.
A virtual sound experience
One particular Brüel & Kjær product caught our attention: an NVH Simulator that replicates the sound of a car's exhaust to an extraordinary degree, taking into account a wide variety of factors such as accelerator pedal position, gear shifts or even driving uphill. As the simulator was designed for engineering purposes, our initial interest in it was purely as a developmental tool; however, we quickly realized its potential for the upcoming SEMA trade show.
SEMA, held in Las Vegas, is the world's premier trade event for automotive speciality products. Competition is fierce, so a simulator seemed the perfect way to drive brand awareness and have people experience the real life unique sound of our exhaust systems. At this trade show, vehicles are not allowed to be run, so supplying a virtual driving experience with actual pulse-quickening connection between engine and ear was both unique and powerful.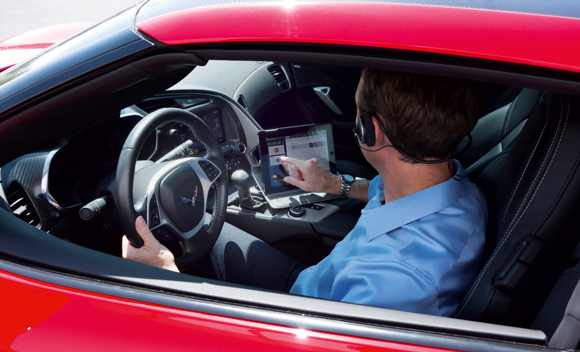 Reinventing the wheel
The first step was to feed the simulator with the right data to reproduce the correct Borla exhaust sounds. Brüel & Kjær travelled to our facility in California to make the necessary recordings and measurements of the chosen model car, a 5-litre Mustang, with the stock exhaust system as well as three different Borla exhaust options. This data was then adapted, analysed and integrated to create a unique and incredibly realistic Borla Driving Simulator.
Once completed, we added the final touches – a large screen, an adjustable racing seat, touchscreen control panel, steering wheel, foot pedals and speakers – to make it comfortable and appealing as well as compact and durable enough to be transported.
Making noise at SEMA – and beyond
More than 60,000 people attended SEMA, including many from OEMs, suppliers and race teams. The simulator worked perfectly and was one of the event's most popular attractions. Interestingly, people initially thought that it was simply a racing video game; but when they understood its intent – a unique way to experience first hand the different Borla exhaust sound options and how they affect both driving style and enjoyment – they absolutely loved it.
Borla had been looking for a way to more directly engage customers at the SEMA Show and the simulator proved itself to be the perfect sales tool. Not only did it fire up everyone who experienced it and leave them with a great impression of the Borla brand, but it also has breathed new life into how we approach our development and marketing activities.
These are very exciting times for Borla, and we look forward to finding out just how far down the road our relationship with Brüel & Kjær will take us.


Iscriviti alla nostra Newsletter e ricevi le informazioni più recenti dal mondo del suoni e delle vibrazioni
Le ultime notizie Brüel & Kjær ti raggiungono con un solo click
Nuovi prodotti, sconti e offerte speciali
Articoli rigurdanti il suono e le vibrazioni, video e guide
Iscriviti ora!
WAVES Online