Based in the Bavarian town of Olching near Munich and operated by TÜV SÜD Industrie Service GmbH, the premises are also home to an innovative laboratory for a new in-house field of activities – technical acoustics.
"TÜV SÜD's decision to bring acoustic measurements in-house instead of outsourcing them was prompted by rising demands from customers and increasingly strict test regulations," explains Andreas Klotz, Head of the Testing Laboratory for Refrigeration and Air Conditioning.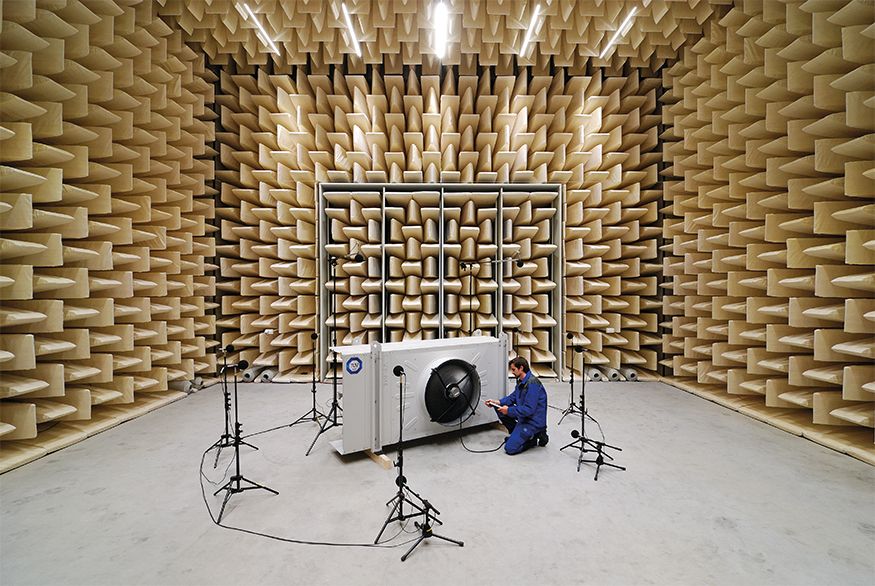 Limiting noise emissions
Ventilation and extraction systems, fans in refrigeration units or vehicles, motors and pumps in machinery or refrigeration systems all produce noise that is perceived as unpleasant. To make sure that any unwanted noise from technical components is below perceptible levels, or to test whether the sounds produced are within the required tolerances, TÜV SÜD has established ideal conditions for such measurements: a 10 × 10 × 7 m semi-anechoic chamber with a volume of around 588 m3. The cavity-walled, room-in-room solution is made of precast concrete parts. The inner cube has a self-contained foundation that is separate from the rest of the building and a 60 cm thick layer of multiple elastomer panels acts as a vibration absorber, resulting in a room with an incredibly low noise level of only 5 dB(A).
"Each customer has different expectations and ideas. For us, as a technical service provider, this means that we need to re-invent ourselves daily," says Andreas Klotz. "The key to success lies in flexibility and individual customer care." To ensure this, TÜV SÜD needed a measurement system that was not only suitable for carrying out measurements on recooling systems within the scope of certification, but also met the demands of automotive suppliers for optimizing the sound of closing a glove compartment or for the approval of alarm systems.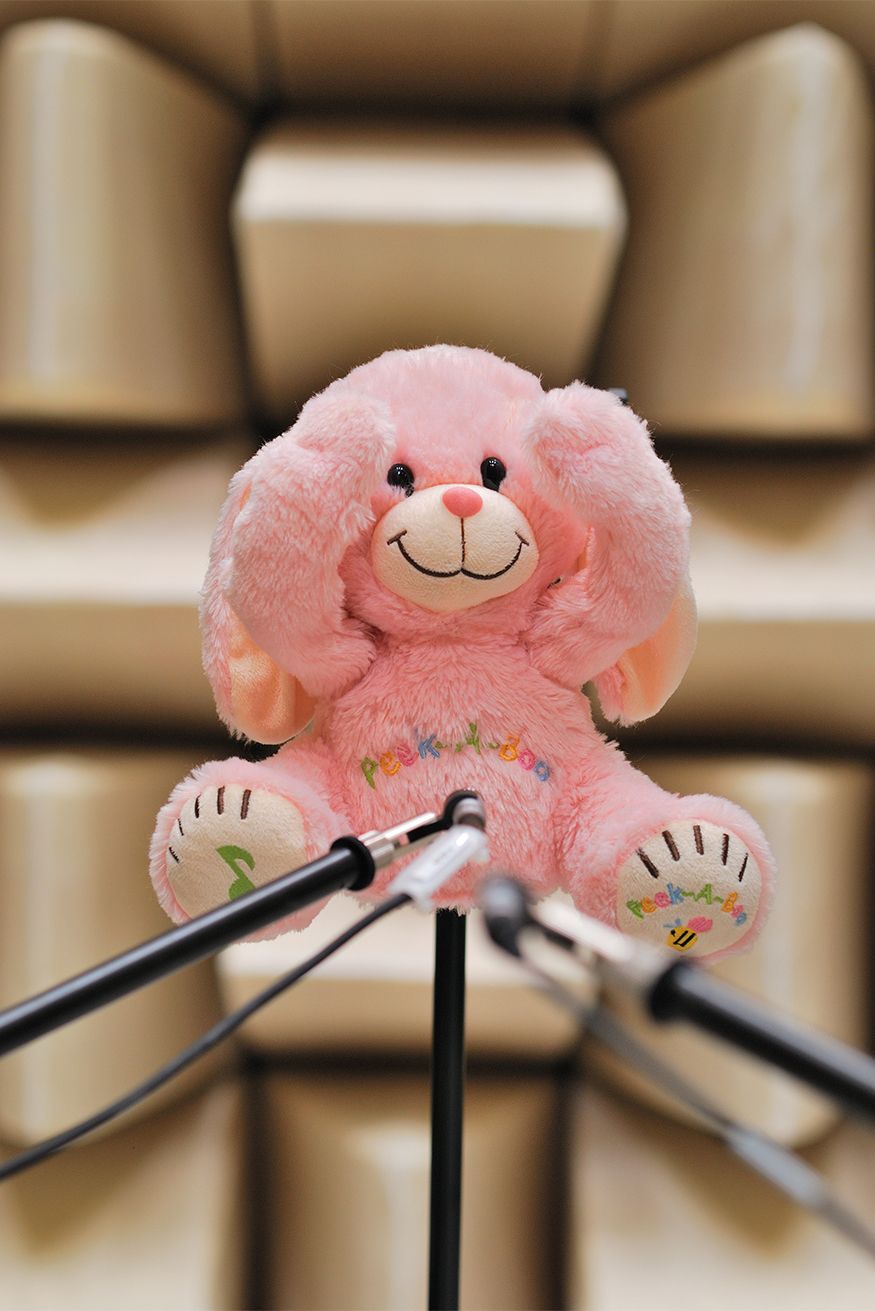 Kitting out the lab

LEARN MORE
LAN-XI DAQ
Opting for a Brüel & Kjær multi-channel data acquisition and analysis solution, Andreas Klotz explains why: "Brüel & Kjær is the only supplier offering package solutions that include everything from microphones to analyzer software, topped off with first-class support. Other arguments in favour of Brüel & Kjær are the quality of its products and the reputation of its brand. This technology ensures that our customers will obtain reliable and robust measurement results."
The laboratory is equipped with 16 channels of LAN-XI data acquisition hardware, where the ability of being able to use the modules in a distributed system ensures short and orderly cable runs. The power needed by the modules is supplied by Power over Ethernet (PoE) from a central switch via one network cable. The measuring room and the control station are only connected by a single network cable, a major advantage over other systems that still rely on a traditional rack-mounted system.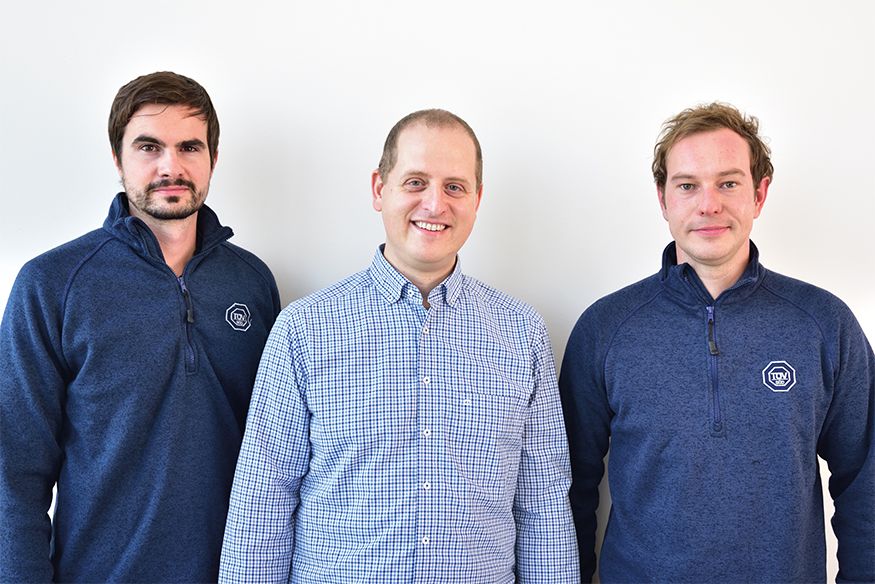 TÜV SÜD's technical acoustic experts. From left: Michael Gail, Sebastian Rieger and Thomas Heichele
Full digitization
TÜV SÜD also rigorously oversaw network capability and digitization for all other measured variables recorded directly by the PULSE™ measurement software. The ambient conditions in the measurement room, for example, are read via Ethernet and supplied directly to PULSE via the GADI (Generic Auxiliary Digital Interface) driver. "The requirements related to determining electrical power parameters during acoustic measurements are one of the reasons why TÜV SÜD decided to rely on full digitization and the GADI driver. The electrical power that needs to be measured, for example, extends from the low single-digit range to several kW.
"A standard analogous 0 – 10 V signal does not allow these measurements to be realized with the necessary precision," explains technical acoustics expert Sebastian Rieger. In this case, TÜV SÜD relies on the high-precision Yokogawa power meters that are likewise actuated via the network and supply measurement data via the GADI driver to PULSE. All relevant measured data that needs to be recorded and the measured acoustic values are, therefore, all captured in one system and stored as one data set in an SQL database.
The road to olching
The acoustics laboratory has already built up a broad client base since it began its operations. Many of the acoustic measurements are performed as services for larger projects in the refrigeration and air conditioning laboratory, particularly within the scope of certification. However, an increasing number of customers in the fields of product and application testing are now also making their way to Olching.
As well as suppliers to the rail and automotive industries, manufacturers of toys, household appliances and garden tools also use the services and the infrastructure available there, which is rounded off by the provision of utilities including freshwater, wastewater and compressed air systems as well as an exhaust gas-extraction system.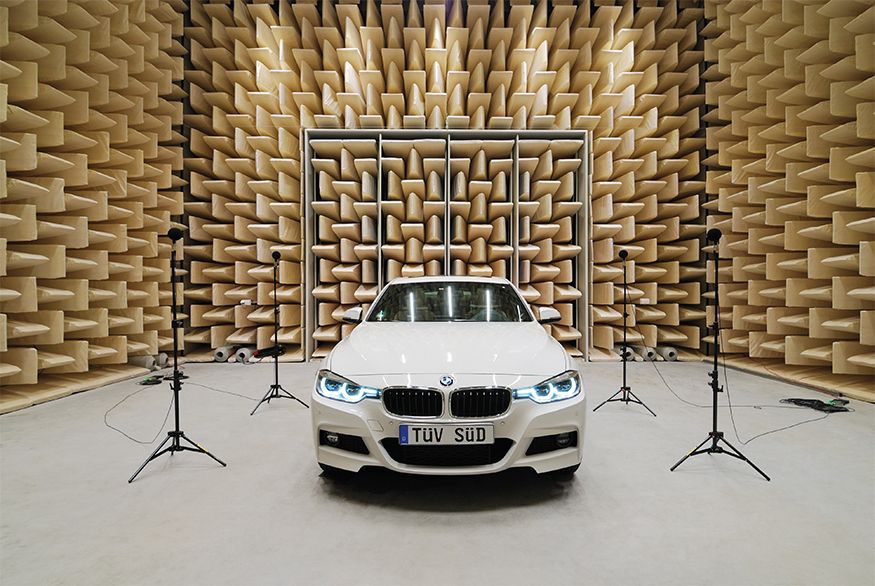 Perfect soundscape with sound quality measurement


Iscriviti alla nostra Newsletter e ricevi le informazioni più recenti dal mondo del suoni e delle vibrazioni
Le ultime notizie Brüel & Kjær ti raggiungono con un solo click
Nuovi prodotti, sconti e offerte speciali
Articoli rigurdanti il suono e le vibrazioni, video e guide
Iscriviti ora!
WAVES Online