LabShop and BK Connect side by side
With over 15,000 PULSE™ systems sold over the past 20 years, there are a lot of existing projects and data that are very valuable to those of you who rely on this system every day. We recognize this and want to assure you that not only is LabShop alive, but it is better than ever.

by Jason Kunio, Product Manager BK Connect
Access to historical data
Brüel & Kjær will continue to maintain and support PULSETM LabShop for the many thousands of systems that have been sold over the years. You, our existing customers, will automatically get access to the new BK Connect sound and vibration software platform along with LabShop and you will also get to enjoy some of its benefits such as free channel count as described below.
Within BK ConnectTM you still have access to all your historical data. BK Connect can import the PULSE LabShop and Time Data recorder file formats, rec/dat and pti. You can use dedicated tasks to import processed data from a PULSE LabShop project by connecting directly to the Measurement or Function organizers. BK Connect also has a direct link to the PULSE Data Manager (PDM). So, whether you are acquiring new data for analysis or reviewing historical data, BK Connect brings your data into a single place for reviewing, reporting and archiving.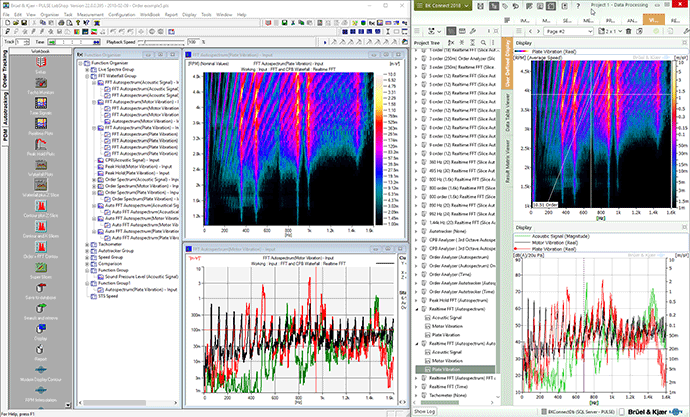 Free channel count
The channel count restrictions on the Core LabShop licence has been eliminated for these embedded licences. This means that for every customer who had a channel restricted licence, for example, 6-channel FFT and CPB Type 7700-N6, you now have the capability to measure as many channels as your hardware will support.
LabShop-specific applications stay
BK Connect is the new sound and vibration platform from Brüel & Kjær and all future sales will be based on BK Connect. Therefore, PULSE LabShop applications that have a direct replacement in BK Connect will no longer be sellable. In practice, that means that PULSE LabShop licences have been included inside the appropriate BK Connect licences, for example the Type 7770 FFT analysis licence is embedded in the Data Processing Type 8403 and 8404 licences, or the Type 7702 order tracking licence is embedded in the Type 8405-E and 8405-F Order Tracking and Analysis licences in BK Connect.
For the LabShop applications that have not been migrated into BK Connect (yet), these applications and licences remain unchanged. So, while the prerequisite licences for using, for example, PULSE LabShop Free Field Sound Power Type 7799 will be BK Connect going forward, the use of this specific application will be unchanged.
The BK Connect software is ready and waiting with its configurable workflow based on your Job to Do. But the PULSE LabShop software that you know is still available for you to use. While there are many unique advantages to the BK Connect 2018 release, your transition from LabShop to BK Connect can happen at your own pace. Watch for an upcoming webinar or contact your local sales or application engineer to discuss your future sound and vibration solution.
For more information, please contact your local sales representative or visit www.bksv.com/bkconnect