Gas turbine testing
Gas turbines are highly complex machines that need comprehensive testing and analysis during development in order to understand and optimize their dynamic behaviour.
Airframers face stringent requirements to reduce fuel burn, environmental emissions and engine noise, drawing engine performance into central focus. Engine testing takes considerable resources. With huge engine test facilities, data acquisition requirements and many involved staff, each test is a large operation with tight schedules and test commitments.
Brüel & Kjær's gas-turbine test systems provide high-performance, scalable platforms for dynamic data recording, real-time monitoring, and post-analysis.
System suggestion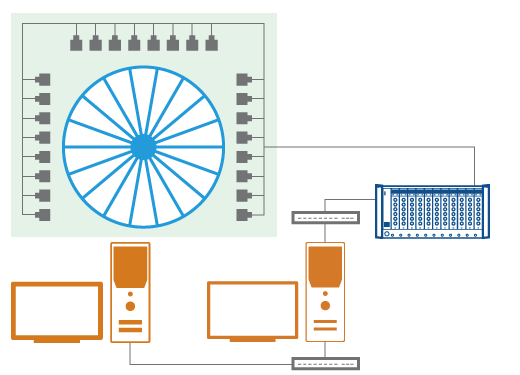 This LAN-XI-based system provides data recording for hundreds of dynamic channels, highly detailed real-time monitoring of test data, and the capability to share data for post-test analysis. Real-time analysis and alarm information from monitoring stations ensure data validity.
Highly scalable and easily transportable, this system can be combined for high-capacity centralized data-acquisition or split into smaller mobile systems for easy transport.
BK Connect data processing provides post-analysis functions supporting a wide range of formats for import from, and export to, native and third-party systems.


Iscriviti alla nostra Newsletter e ricevi le informazioni più recenti dal mondo del suoni e delle vibrazioni
Le ultime notizie Brüel & Kjær ti raggiungono con un solo click
Nuovi prodotti, sconti e offerte speciali
Articoli rigurdanti il suono e le vibrazioni, video e guide
Iscriviti ora!
WAVES Online