BAE - World-Class Naval Engineering
BAE Systems is a global defense, aerospace, and security company employing people in over 40 countries and working closely with skilled partners. Providing a competitive edge in the air, at sea, and on land, as well as in the cyber world, BAE Systems designs, manufactures and supports complex surface ships, submarines, torpedoes, radars, and command and combat systems.

Designed to protect powerful new aircraft carriers, the Type 26 Frigate is a cutting-edge warship that will replace the UK's Type 23 Anti-Submarine Warfare (ASW) Frigates. Designed for a service life of at least 25 years, eight Type 26 Frigates will form the backbone of the Royal Navy surface fleet well into the 2060s.
"Acoustic detection and identification techniques continuously become more advanced and sophisticated, and we have to ensure that we get the right cutting-edge solution that matches the rigorous requirements of the T26."
Andy Kellett, The UK MOD's Requirements Manager for the T26

The Acoustic Signature of a Ship
When life at sea in hostile conditions depends on not being detected, the importance of acoustic stealth cannot be underestimated. Because of its ASW role, where the T26 Frigate must protect the fleet against potential intruding submarines, it is very important that the ship is quiet and that the crew is able to monitor exactly how much noise and vibration is being generated.

The acoustic signature – the noise and vibration a vessel and its on-board equipment and systems make in the water – is a key requirement for such vessels and it must be kept as low as possible in order to avoid detection.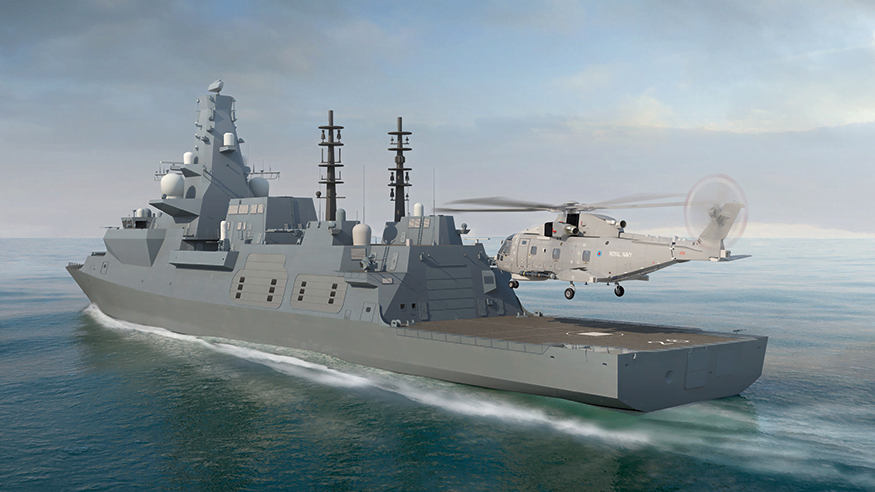 Acoustic Detection and Monitoring
To maintain acoustic discretion, all noise sources of a vessel are taken into consideration, including personnel, on-board equipment, and cavitation, as well as the radiated noise signature of the vessel as a whole. Reducing a ship's radiated noise signature is a key element to its tactical deployment, and a self-noise monitoring system is essential to manage the ship's acoustic signature.

BAE Systems takes acoustic stealth very seriously and following the success of several earlier projects have again selected Brüel & Kjær to deliver a commercial off-the-shelf (COTS) self-noise monitoring system (SNMS), also known as hull vibration monitoring equipment (HVME), for the first three Type 26 Frigates.

Chris Curtis, Type 26 Supply Chain Director said, "Brüel & Kjær's previous record of delivering high-quality products to BAE Systems on previous programs supported the contract award for the HVME. On the Type 26 Frigate, our suppliers are integral to the success of the program, which is why it is important to have a trusted relationship where we can work together to deliver."
"Acoustic stealth is of prime importance for the operational success of the t26."
Andy Kellett, The UK MOD's Requirements Manager for the T26
A Scalable Self-Noise Monitoring System
Based on the PULSE™ scalable platform, the self-noise monitoring system is made up of a network of COTS equipment and includes transducers, data acquisition, and vibration measurement and analysis capabilities.

The acoustic signature is managed by monitoring structure-borne vibration and reviewing the vibro-acoustic information. This helps ship staff to control noise sources coming from machinery, hydrodynamic flow, and propeller cavitation. The system provides an instant overview of the radiated sound of the ship via permanently installed sensor arrays mounted internally on the ship's structure, and the continuous vibration monitoring of the ship's hull helps the crew to maintain a low noise signature.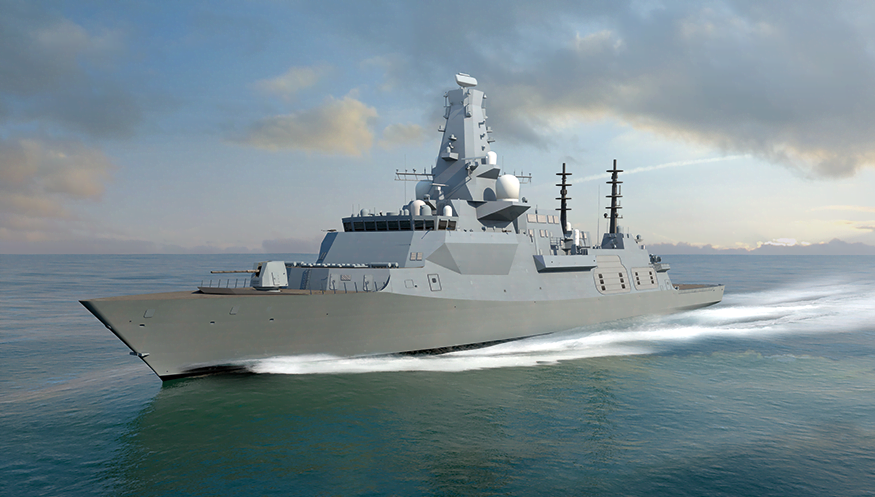 Scalable DAQ System With Few Cables
The system offers some huge benefits: when space on a warship is at a premium, the practically zero footprints of the solution is an important factor. The data acquisition units can be hidden in small spaces, and the network architecture provides installation flexibility and radically reduces the amount of cabling throughout the ship, which in turn provides a valuable cost and weight reduction.

BAE Systems also appreciate that the off-the-shelf system is a complete, integrated solution – it covers the entire measurement chain. COTS solutions are advantageous because they ensure customers avoid outdated technology, which in the naval engineering world is not only inefficient but can dangerously lead to the inability to carry out prescribed operations.
In addition, Brüel & Kjær's partnership and its ability to manage this program over the entire lifetime of the ship, which is at least 25 years, were important selection criteria for this project. The system is an integrated part of T26 Frigate, and the long-term commitment includes responsibility for integrated logic support, including the provision of spares and support.
Always Up-To-Date Hardware and Software
The self-noise monitoring system for the first three T26 Frigates ensures that BAE Systems gets a commercially mature technology with an open architecture. And it means that BAE Systems is always up-to-date with hardware and software and that the ships have a cutting-edge, acoustic-stealth solution well into the long-term future.
---

T26 Global Combat Ship
Top speed: 26+ knots
Range: Excess of 7,000 nautical miles in Electric-Motor (EM) drive
Accommodates: 208 crew and 157 core complement
Main dimensions: Displacement: 6,900 tonnes
Length: 149.9 meters
Maximum beam: 20.8 meters
Entering service: In the mid-2020s


Abonnez-vous à notre Newsletter et recevez les dernières actualités en acoustique et vibrations
Les dernières infos de Brüel & Kjær directement dans votre boîte de réception
Nouveaux produits, remises et offres spéciales
Articles, vidéos et guides consacrés à l'acoustique et aux vibrations
Abonnez-vous maintenant !
WAVES en ligne