ChovA solutions for sound insulation
New ChovACUSTIC systems leverage all the benefits of state-of-the-art sound level meters

CHALLENGE
---
With increasingly demanding regulations coming into force, such as municipal ordinances aimed at increasing the well-being of citizens, or the new Spanish Technical Building Code, sound insulation is paramount. Currently, with the boom in refurbishment, ChovA has strived to introduce innovative systems and products. The great challenge is always to ensure a reliable and safe insulation solution.
SOLUTION
---
In order to guarantee a sound insulation system is up to the requirements of a refurbishment project, a number of essential conditions must be met: easy, reliable and flexible measurement and data analysis . ChovA turned to Brüel & Kjær equipment, including sound level meters, sound calibrators and OmniPower sound sources, not only to facilitate the testing process, but also to ensure results that could be trusted.
RESULTS
---
ChovA is currently launching insulation systems with sound insulation values of 56 and 59 dBA. This has been achieved by combining its own products (sheets, plates, panels, bands, etc.) and using Brüel & Kjær equipment and technical support to ensure performance. Such an ambitious product development project, with its many iterations, panel changes and work, required top-notch sound level meters to facilitate process, automation, and getting the most out of the data. Appropriate advice, quick resolution of measurement and calculation queries was also essential to ChovA achieving their desired results.
ChovA, a company specializing in waterproofing and thermal and acoustic insulation, has recently launched a new range of ChovACUSTIC systems that will notably increase sound insulation levels between enclosures. These new systems are specifically designed for refurbishment work, a thriving market segment. In fact, the need to improve sound insulation in homes has become particularly noticeable during the recent lockdown caused by the pandemic.
For the development of an acoustic insulation system, easy, flexible, and reliable performance analysis is critical. This is because acoustic insulation requires extensive testing during development until an optimal solution is found. So, before launching solution systems that includes its products, ChovA extensively analyses the results of all the acoustic tests (DnT,A in accordance with DB-HR) carried out for their acoustic insulation products.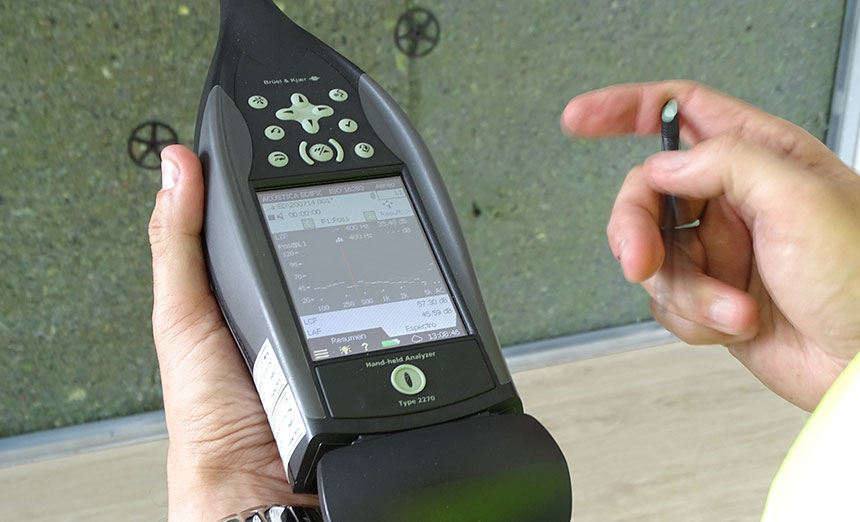 Relying on Brüel & Kjær products for the measurement demands of such new development and for compliance with current regulations, ChovA used class 1 Hand-held Analyzer Type 2270. Sound Calibrator Type 4231 is used to check the calibration of the Type 2270 before every test. Other Brüel & Kjær equipment used include OmniPower Sound Source Type 4296 and Power Amplifier Type 2716. Furthermore, to comply with regulations, a 1/3-octave graphic equalizer was used to check and ensure that the pink noise emission from the OmniPower had the flattest response possible in all the frequency bands in a free field.
The procedure that ChovA follows to launch a new system (that includes its products) leaves no room for uncertainty. Starting from a specific sound insulation system, the company makes a series of measurements and then analyses the resulting data. In this case, ChovA started from a base LH7 hollow brick wall rendered with mortar on both sides to check that the original sound insulation reached just 38 dBA. Subsequently, in successive iterations, a variety of insulation products were added, such as viscoelastic sheets combined with felt. After each step, ChovA analysed the acoustical performance and the results at different frequencies. They continued testing by insulating the sides, installing self-supporting systems, and adding anchors to the wall with elastic spacers so that the wall lining was not in contact with the original partition, preventing the structural transmission of noise.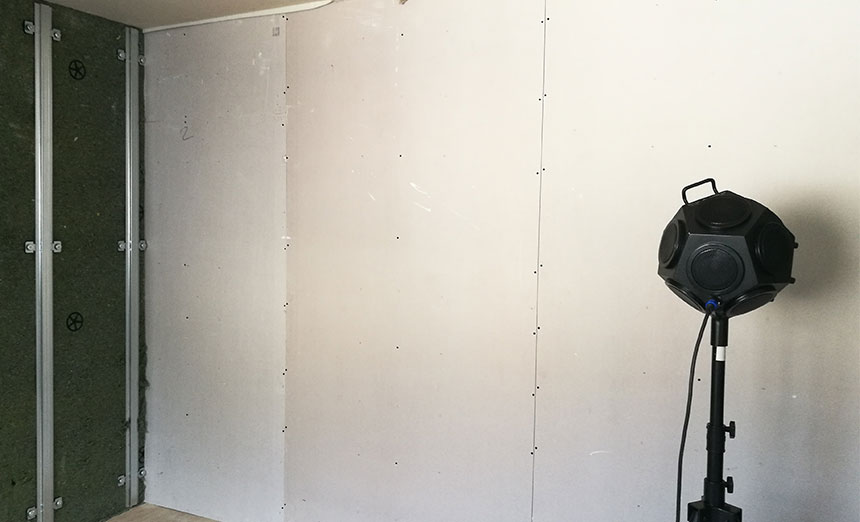 In addition to relying on its own vast experience, all ChovA's tests and measurements are made according to current regulations and the Spanish Technical Building Code, which lists a series of elements that contribute to noise transmission.
The choice of sound level meter is critical for this long and time-consuming process of system installation, data measurement and data analysis. As acoustic experts Mari Cruz Grau and Nacho Ramón acknowledge, making the numerous measurements and acquiring the necessary data can be a complex process. Nevertheless, the Brüel & Kjær sound level meter is appreciated. "You know where you are in the measurement procedure at all times, what the relative positions of the microphone and the source should be, and whether the test is proceeding in accordance with regulations. This makes our work significantly easier," says Nacho Ramón, who has been making acoustic measurements in buildings for over 10 years. He has also worked as an auditor at an ENAC accredited acoustic laboratory, which collaborates with public bodies, and is, therefore, familiar with different measurement equipment. "Previously, when carrying out calculations for reporting purposes, you could encounter difficulties caused by the geometry of the room, such as large differences between frequency bands outside of the tolerances specified in the regulations, or difficulties in calculating the reverberation when certain frequencies were missing. Brüel & Kjær's sound level meter gives you complete control of the measurement process. Since the applicable measurement regulations are implemented in the software, you always know what is happening. It will tell you if there are large differences between frequency bands and will also advise you if the measured decay in a particular frequency is preventing the calculation of the reverberation time. This saves a lot of time as it helps us avoid having to repeat measurements. It also gives us peace of mind as you know that the tests made are correct at all times."
So, ChovA started from an initial insulation value of 38 dBA and, by leveraging their technicians' experience in insulation measurement, achieving a sound insulation of 57 dBA with a wall lining of just 7 cm with omega profile – and even 57 dBA using a wall lining with self-supporting profile of 10.8 cm – simply by combining products until the ideal results were achieved.
Recently, ChovA was able to install their systems in a night club located on the bottom floor of a residential building. After carrying out preliminary measurements at the premises – of the party wall and floor, etc. – the data obtained revealed an optimal performance of the solution adopted.


Iscriviti alla nostra Newsletter e ricevi le informazioni più recenti dal mondo del suoni e delle vibrazioni
Le ultime notizie Brüel & Kjær ti raggiungono con un solo click
Nuovi prodotti, sconti e offerte speciali
Articoli rigurdanti il suono e le vibrazioni, video e guide
Iscriviti ora!
WAVES Online