With its headquarters in Japan and subsidiaries in 23 countries, Sumitomo Riko holds the largest market share of automotive anti-vibration products. Its highly durable anti-vibration rubber products absorb vibration from car engines and suspension, helping deliver greater comfort and improve NVH performance.


Anti-vibration rubber in vehicles
Anti-vibration rubber is present in a vehicle in the form of mounts and bushes. These non-linear components are important to NVH as they absorb the energy that would otherwise be transmitted to the driver and passenger. The use of anti-vibration rubber in vehicles fit into four main areas: the engine system, suspension system, body system, and the exhaust system. A large quantity of anti-vibration rubber – 60 to 70 pieces at most for a single vehicle – is needed to reduce the vibration and noise that occurs both inside and outside the vehicle, delivering a comfortable driving experience and stable handling.

Depending on where it is used in a vehicle, anti-vibration rubber needs to have a well-balanced combination of the following properties to control vibration:
Spring properties
Heat-resistance
Durability
Reliability
The spring properties of the rubber combine stiffness with inherent damping in the material that converts the dynamic energy into heat. The absorption characteristics can be defined as hysteretic damping (which is constant with frequency) and referred to by the industry as loss and viscous damping (which increases linearly with frequency).
By altering the geometry and compound of the rubber, the manufacturer can tune the mount to a specific load and isolation specification. For example, right now there is a demand for anti-vibration rubber with high performance in terms of durability and heat resistance for vehicles driven in harsh environments, such as on unsurfaced roads and in regions with intense heat. This has spurred the development of rubber that possesses high vibration control characteristics covering a wider range of the vibration frequency bands.
---
Anti-vibration rubber products:
Plain rubber mounts are designed to have different stiffness in each direction to optimize the balance between isolation and load resistance. More complex mounts have progressive stiffness characteristics to handle transient events
Bushes made from highly durable rubber reduces the size and weight of the anti-vibration rubber, which contribute to energy-savings
Electrical Active Control Mounts (E-ACM) are electrically activated mounts that alter characteristics under certain driving conditions. Controlling a built-in actuator, these mounts instantly minimize vibrations transmitted to the vehicle body
Adaptive hydraulic suspension bushes are designed to minimize suspension system vibration, reducing unpleasant vibrations felt when driving on rough or uneven road surfaces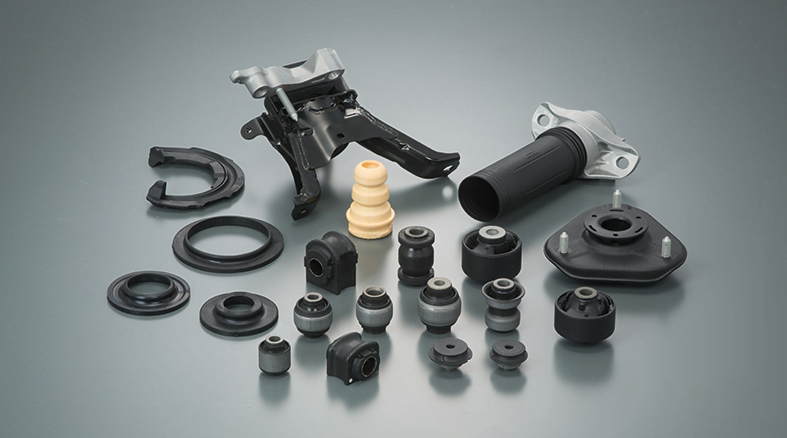 ---
Size and weight are also crucial
The automotive industry is also facing tighter regulations on emissions; therefore, there is interest in reducing the weight of automotive parts to help with fuel savings. Vehicle manufacturers are actively adopting lightweight materials, such as high tensile strength steel, aluminium parts and resin based materials. Similarly, Sumitomo Riko has been developing lightweight technology for anti-vibration rubber.
However, the success of reducing the size and weight of anti-vibration rubber products has brought to light another challenge: smaller anti-vibration rubber products are subject to larger input distortion and result in lower durability. To address this challenge, Sumitomo Riko has developed a high-durability rubber using polymer materials technology. The rubber is twice as durable as conventional rubber, and enables a size and weight reduction of products, while still maintaining durability.

LEARN MORE
LAN-XI DAQ
In 2009, Sumitomo Riko enhanced their PULSE™ system by investing in three LAN-XI modules and a Time Data Recorder. Along with transducers, triaxial accelerometers and DC accelerometers, the current testing set-up now includes eight LAN-XI input modules, LabShop and PULSE Reflex™ Core for post-processing analysis.
Flexible testing set-up
Planning tests around the specific needs of customers, Sumitomo Riko evaluates product properties, including durability, ensuring the desired performance of the rubber material is achieved. "We meticulously analyse materials, products and systems from multiple perspectives. Simulating the use conditions of the final product, we evaluate whether our components can satisfy customer requirements," explains Hideki Ohshima, manager at Sumitomo Riko.
"We develop the optimum solution through not only evaluating the structural design but also through a molecular-level analysis of polymer materials. This sophisticated approach leads to proposal-driven manufacturing that anticipates the needs of customers around the world," says Hideki Ohshima.

Using PULSE to measure vibration, Sumitomo Riko ensures products meet customers' requirements during the early stages of development. "The PULSE system helps us demonstrate our ability to meet design specifications and win the confidence of our customers," explains Hideki Ohshima.

"The real value of the PULSE system for us is its high flexibility and mobility," says Hideki Ohshima. "We always have to complete measurements within a limited time and some tests are conducted at external facilities. This means that we have no extra time to accommodate failed measurements. PULSE is a really good solution to make sure we complete testing successfully."
Comfort, even in harsh conditions
Sumitomo Riko continues to develop a range of high-function and high value-added product designs, concentrating on decreasing the size and weight of materials while maintaining high durability performance. Using rigorous testing methods, Sumitomo Riko meets customers' demands for smaller and lighter products that can still be used in challenging environments.


当社ニュースレターを購読すると音とバイブレーションの世界からの最新情報を取得できます。
最新のブリュエル・ケアーからのニュースをメールでお届けします。
新製品情報、セールやキャンペーンなどの情報
音響・振動の記事、ビデオや情報
購読申し込みはこちら!
WAVESオンライン