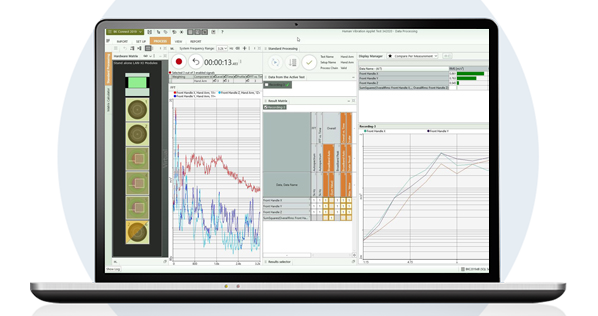 START TODAY
6 MONTH FREE TRIAL LICENSE


BK CONNECT
SOUND AND VIBRATION
ANALYSIS SOFTWARE
The challenge of having a dynamic and flexible solution that could easily be based on the type of user, was our focus every day during the development of BK Connect. How could we support users in a way that would allow them to focus on their Job to Do.
Jason Kunio, product owner of BK Connect says; "What inspired me throughout the development of the new BK Connect software platform was my interaction with customers from my previous 11 years as a Brüel & Kjær Application Engineer..."

"Then and now, I see that the sound and vibration community is very diverse. Customers work on a wide range of products using a wide range of measurement and analysis techniques, but I think what strikes me most is how differently people go about their daily tasks, from complex problem solving to repetitive testing."
Software That Works Like You Work
The efficient workflow comes from the ability to easily adapt the software user interface based on the specific use of the software. Unique functionality in BK Connect is the 'Done Management' feature that works as a user-configurable workflow wizard.
Furthermore, using the Favorites concept, you can hide tasks, toolbar icons, metadata fields, and even analysis parameters so that an Operator has only the minimum capability visible during a test. This could be as little as the start and stop button without the ability to see any of the analysis parameters, while the sound and vibration Specialist, using the same software, can have access to all the necessary tools to solve a complex problem.
Fully Integrated Measurement Platform
BK Connect is a fully integrated solution for multichannel data acquisition using our LAN‐XI Data Acquisition System, as well as data processing, data management, and reporting.

The core applications of BK Connect are designed for general-purpose sound and vibration engineering.

The individual applications can be licensed separately or purchased as a suite. Together, they provide a comprehensive set of tools for real‐time measurements and data processing with the flexibility to deal with a wide range of engineering scenarios – from repetitive, standardized testing, to complex troubleshooting investigations.

The core applications of BK Connect are:
Each of these applications is designed as a self‐contained solution for a typical task or set of tasks within a more complex test. Select the module or modules that will help you perform the task or combine applications to increase functionality and create super‐efficient workflows for quick and easy completion of multiple steps in a sound and vibration test process.
With BK Connect you get more from the start because it's software that works like you work. Customers with a valid maintenance contract will automatically get access to corresponding functionality in the new BK Connect platform.
Real-Time Monitoring with Data Validation for Recordings
When BK Connect was launched Hardware Setup Type 8401 included four real-time monitors as part of the application: overall Level, FFT spectrum, time history, and the spectrogram.

This latest release expands this monitoring functionality by including the 1/3rd-octave spectrum monitor with optional acoustic weighting and auditory monitoring functionality where you can listen to any signal through your PC's sound card.
Listening is a great tool for understanding data. It is especially valuable when you are not close to the measurements being made, for example, when the measurement is made in the test chamber and you are outside in a control room. In this remote situation, one of the best tools to validate the results is to listen to the microphone or accelerometer data during the measurement itself.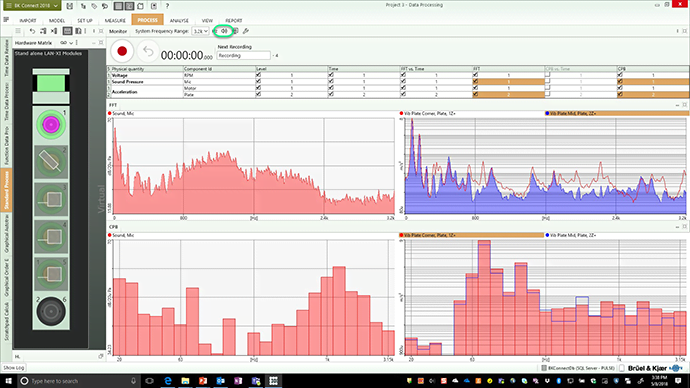 Real-time FFT and 1/3rd octave monitoring during recording
Metadata And The Device Under Test (DUT)
One of the strengths of BK Connect is that it is built upon a database that allows you to document your test results with metadata, then later search for your data based on this metadata. To support this, we introduced a new concept called the Device Under Test (DUT). The Device Under Test is a new level of metadata description that can be assigned to a recording or processed result.
The Device Under Test is stored in the database and can be loaded into any new project allowing the metadata assigned at the Results level to be unique to that specific recording or processing while reusing the DUT across multiple actions. Once the data has been documented you can either store the data using the built-in database or, if you have previously used PULSE Data Manager, with the 2018.1 release we support two-way data exchange between BK Connect and PULSE with Data Manager - as part of the Native File Format Import Type 8400-B.

With Native File Format, you are provided with data stored in our current network database solution to migrate to BK Connect for acquisition and processing while continuing to use your existing data management solution.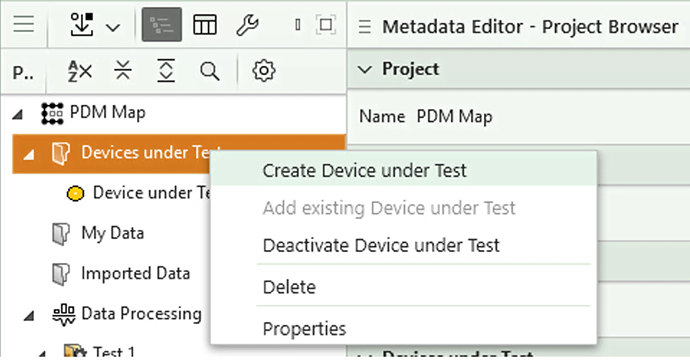 Create or add a Device Under Test to the existing project for documenting recording and analysis results
Improved Workflow For Testers, Designers, and Operators
One of the more powerful features of BK Connect is its ability to quickly generate a report by making selections in the Results Matrix and sending the individual displays to the active report. The automation of the analysis streamlines the process from measurement to results significantly, but to generate the report still required interaction with the software.
You, the user, would select a specific cell or multiple cells in the matrix and click the Send to Report icon. This would generate one page at a time, which was a good start but took time to make multi-page reports. The Results Selector, available in the standard processing task as part of both Data Processing Type 8403 and Data Viewer Type 8400 licenses, is our answer to pre-creating multi-pages of displays either for viewing or reporting. The displays created for these distinct tasks may be different.

The Results Selector is a combined selection of cells in the results matrix and a display rule. Now, as part of the analysis, you can auto-view the displays and then create a multi-page report again giving you the flexibility to either create the report as you go or predefine a report template.
Predefined Grouping of results using the new Results Selector
These features and many more are included in the core BK Connect Applets (Types 840X) so it is available to all customers with a valid maintenance contract for the appropriate licenses.
---