With over 100 publications, patents, and consultancy work for at least 50 companies, Professor Amiya Mohanty's long and distinguished career has covered virtually every aspect of sound and vibration from underwater acoustics to experimental modal and CAE techniques.
Today, Professor Mohanty works at the Indian Institute of Technology (IIT) Kharagpur, India's oldest and most prestigious engineering institute, where he continues to push the frontiers of sound and vibration excellence. His fascinating life has been spent in the pursuit of knowledge – for himself, for the industry, and for his students – and his mission is far from over.
A Passion For Sound and Vibration
Professor Mohanty completed his Bachelor's degree in Mechanical Engineering with an undergraduate project that involved programming a Vax 1180 with a 'homebrew' weight optimization algorithm for an engine con rod. Later, for his Master's degree, he built himself an analyzer using a cheap data acquisition board and a PC that was used to monitor the vibration of a gearbox. This was 1987 and modern tools such as MathCAD, MATLAB® and LabVIEW did not exist, so Prof. Mohanty simply rolled up his sleeves and took it upon himself to create his own FFT analyzer.
When asked how he first got involved with sound and vibration engineering, Prof. Mohanty recalls:
"While working on vibration monitoring for my Master's, I contacted Brüel & Kjær using an old reply card from the Monitor newsletter I found lying on my professor's table. I was surprised to receive a big parcel containing sound and vibration literature. I still have these items today and use them frequently. From the material, I saw the potential of computers in condition monitoring applications."
The American Years
In 1989, Professor Mohanty moved to the US after receiving a three-year scholarship to study for a Ph.D. under Professor Andy Seybert at the University of Kentucky. On arrival, he was immediately assigned the task of programming a PC interface for the original impedance tube system pioneered by Professor Seybert. Professor Mohanty concluded his Ph.D. with a thesis on the use of boundary element modeling methods for exhaust systems.
Unbeknown to him, the years spent at the University of Kentucky would equip Professor Mohanty well for later life. His time there had given him a chance to learn about noise control and engineering consultancy as well as to explore one of his many talents: the ability to teach.
When asked about his love of the classroom, Professor Mohanty says,
"I have always had a knack for teaching. In fact, at the University of Kentucky, I was awarded the Chancellor's Award for outstanding teaching."
After a postdoc at Purdue University, Professor Mohanty joined the CAE department at the Ford Motor Company.
"I was enjoying CAE and NVH testing at Ford when my father died suddenly in 1995," he recalls. He returned to India to take care of his family and thanks to his strong academic background and broad experience, he could get a faculty position at IIT Kharagpur to continue his work.

Professor Mohanty performing a sound quality measurement on an engine exhaust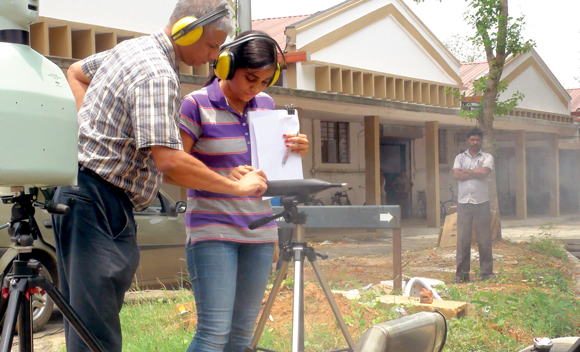 Educating the Industry with Machinery Condition Monitoring
At IIT Kharagpur, Professor Mohanty was not left in peace to pursue university research, and word quickly spread about his knowledge and ability:
"In India, there are few experts in this area, so many companies contact me to solve their noise and vibration problems."
However, he quickly saw how unprepared many businesses were to tackle sound and vibration issues. This is reflected in the preface to his recently published book, Machinery Condition Monitoring, where he emphasizes the need to close knowledge gaps in India's sound and vibration management industry.
When asked to expand on this, he gave a couple of examples of his encounters when consulting:
"Once I was working with earth-moving machinery and I requested an oil sample for spectral analysis. The technician took a fire bucket, full of sand, and emptied it out to collect the oil. When I tried to explain to him the need for uncontaminated containers, he said 'such a big engine, a little bit of sand won't hurt!'
"A slightly different case involved an automotive customer who set a target for noise reduction. When this was achieved, they asked if they doubled the money could we halve the noise again. I had to explain that NVH is not simple arithmetic."
These experiences inspired Professor Mohanty to try to raise the profile of sound and vibration engineering through undergraduate courses at IIT Kharagpur as well as several short industry courses. His efforts were by no means in vain and a new acoustic and vibration monitoring laboratory has since been commissioned, and now there is a thriving international collaboration and exchange program with universities from all over the world.
Professor Mohanty continues to teach many of these courses and when asked about the role of the modern lecturer he gives an interesting reply:
"With the ease and abundance of information now available, a teacher has to play a careful balancing act. I always think of innovative ways to excite my students by explaining concepts through both simple math and real-life examples.
When I teach, I always bring my experiences from consulting and research projects to the classroom, which you won't find in the standard engineering texts. Conversely, while discussing engineering problems with the students, many new ideas and alternative solutions also come to me."

We asked some of Prof. Mohanty's former students what it was like to study under him. The consensus was:

"Damn hard work, but worth it as employers recognize and value the fact that we have studied under him"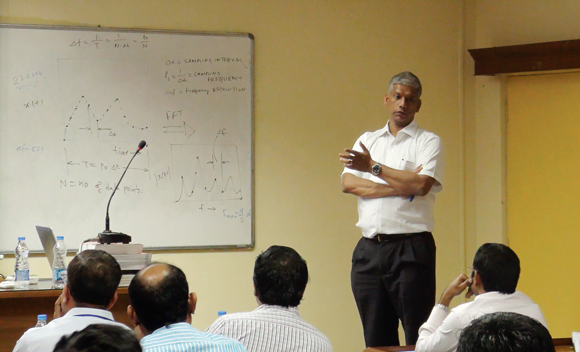 Improving India's Sound and Vibration Industry
Professor Mohanty has accomplished so much but he still retains his passion and drive to improve India's sound and vibration industry.

Next on the list is assisting the development of the Indian 'bullet train', which is to be partly engineered at IIT Kharagpur. There is also the commercialization of two indigenous technologies using jute, a locally grown plant, for noise insulation and electric motor current signature analysis, the latter being a clever technique for vibration monitoring of pumps and drives driven by electric motors.
A man in such high demand will never stay still for long, but one thing is clear – Professor Mohanty's mission is not over yet.
---

Amiya R. Mohanty, Professor, Ph.D.


Current position
Professor Mechanical Engineering at IIT Kharagpur, India (since 1996)
Specialization
Machine diagnostics, signal processing, NVH, CAE, and underwater acoustics
Previous employment
Ford Motor Company, Detroit USA; Larsen & Toubro Ltd, Mumbai India

Education and research
Post-doctoral fellow Purdue University the USA
Ph.D. Mechanical Engineering from the University of Kentucky in 1992
M. Tech Machine Design IIT Kharagpur 1988
BSc Engg (Hons) Mechanical Engineering National Institute of Technology, Rourkela India 1986
Awards and honors
Chancellors Award for Outstanding Teaching, University of Kentucky, USA (1992)
OAP In-bound Research Fellowship, National University of Singapore (2003)
Rais Ahmed Memorial Award, Acoustical Society of India (2009)
Best Research Paper Award (Underwater Acoustics), Acoustical Society of India (2011)
Membership of professional bodies
Member, National Committee on Noise Pollution Control, CPCB, Government of India
Member, Bureau of Indian Standards on National Building Code, Government of India
Member, Mentor Council on Automobile, Ministry of Labor and Employment, Government of India


뉴스레터를 구독하고 소리와 진동에 대한 최신 이야기를 만나보세요
Brüel & Kjær가 전하는 최신 뉴스가 받은편지함으로 발송되었습니다.
신제품 출시, 할인 및 이벤트
소음 진동 기사, 비디오 및 가이드
뉴스레터를 구독하세요!
온라인 뉴스레터 WAVES