Maximise your microphone knowledge
Hottinger Brüel & Kjær's (HBK) interactive software database available to download free of charge
Engineers, students and those seeking to learn more about microphones can now take advantage of HBK's new software tool, the Microphone Viewer, which provides a wealth of information on microphones and associated data.
Backed by HBK's 60 plus years of knowledge and experience in acoustics, the database includes sample records from more than twenty microphone cartridges and microphone sets. It helps users learn how microphones behave in different operating conditions, provides background information to support their decision when choosing specific models and acts as a handy reference tool.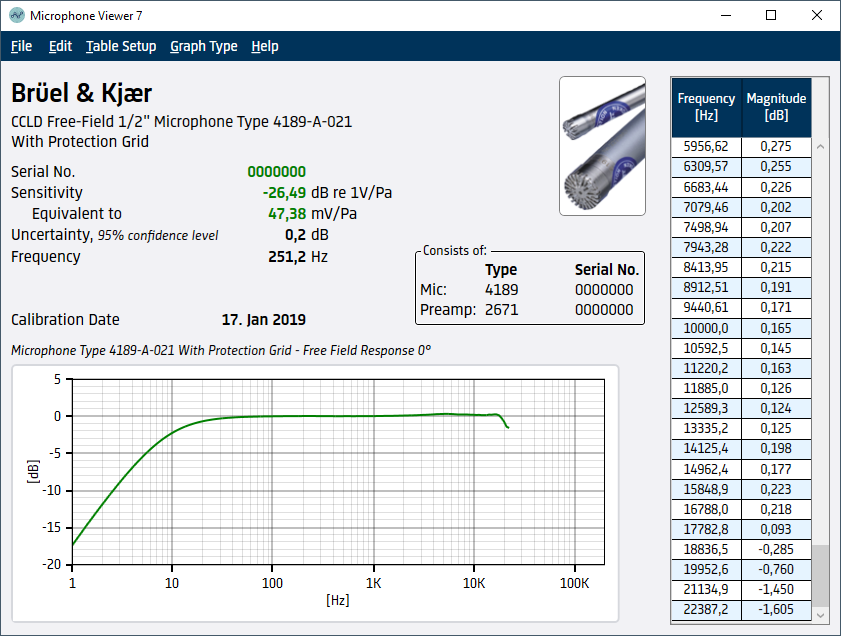 Brüel & Kjær microphone utilisers have the added bonus of being able to import its data to the Microphone Viewer and start building their own database. They will be able to see the calibration data, including the type number, serial number and last calibration date, at a glance.
Users will also see the optimized frequency response curve, view responses (low-frequency, actuator, free field or random incidence) as well as responses with or without protection grid or other accessories, and at different degrees of incidence. Corrections such as free field, random incidence and pressure field, are shown in graph or table form.
All the data from the table can be exported into Excel® for post-processing and printing.
About HBK – Hottinger Brüel & Kjær
The two market leaders, HBM and Brüel & Kjær, have joined forces as HBK – Hottinger Brüel & Kjær – to form theworld's foremost provider of integrated test, measurement, control, and simulation solutions.
HBK – Hottinger Brüel & Kjær – provides a complete portfolio of solutions across the test and measurement product life cycle, that unite the physical world of sensors, testing and measurement with the digital world of simulation, modelling software and analysis. By creating a scalable and open data acquisition hardware, software and simulation ecosystem, product developers can cut time-to-market, drive innovation and take the lead in a highly competitive global marketplace.
For more information, please visit www.hbkworld.com


뉴스레터를 구독하고 소리와 진동에 대한 최신 이야기를 만나보세요
Brüel & Kjær가 전하는 최신 뉴스가 받은편지함으로 발송되었습니다.
신제품 출시, 할인 및 이벤트
소음 진동 기사, 비디오 및 가이드
뉴스레터를 구독하세요!
온라인 뉴스레터 WAVES