More value from data: BK Connect Team Server
Data is acquired to solve engineering problems but, as in life, engineering problems are doomed to repeat themselves if we do not learn from the data. This means that we have two distinct problems to solve, how do we acquire the data and how do we manage the data to maximize the value?
Multichannel data acquisition
BK Connect® is a fully integrated solution for multichannel data acquisition (using our industry-leading LAN-XI hardware), data processing, data management and reporting. The innovative user interface is easily customized so you can adapt it to the needs of different users within your organization enabling expert users and operator technicians to work together with maximum efficiency and high productivity. This allows users to focus on their task to be done. This also means that we can generate a higher volume of data faster than ever before. If the built-in MetaData feature in BK Connect is used to document the data, the rest of the organization cannot use this data to solve problems today and in the future.
Efficient data management
Managing this data can be a real problem. As a user, how can we safely store this data and how can others find the data? Team Server, introduced as part of the BK Connect® 2019.0 release, was designed to help alleviate the hassles of finding data and sharing this with your team via the network – no database is required. However, the greatest strength of Team Server is the measurable time saved and the added value the data brings to your organization for solving today's and tomorrow's problems.
Team Server is an indexed file repository that can reside locally on your PC or on the network managed by the IT department. The workflow is integrated into BK Connect, allowing BK Connect data to be uploaded to the shared folder, allowing each user to decide what data should be accessible to the team. Once the data has been shared to the Team Folder, it is indexed automatically. The system reads the files, extracts relevant, user-defined metadata and application-related data attributes, and turns them into searchable results. It works for all file types importable into BK Connect, but works best with the .bkc file, which has more attributes available for indexing.
Collaboration and problem solving
Whoever has read/write access to the Team Folder can search for data within BK Connect based on any data attribute, most importantly user-defined metadata. Once the data is found it can be imported into the local project for further processing, data comparison or reporting. This opens the door to new ways of collaborating and solving problems more efficiently than before.
New life to old data
By making the data available for the organization, Team Server adds value to new data, but above all, gives new life to old data.
Who does not recall being asked for data they took in a past project, perhaps years ago, perhaps only last month? You have a rough idea where to find it, but how much effort will it take? How much time can you afford to spend before you give up, fearing it could take hours of browsing through old folders and projects, and wondering whether the data you eventually find will answer the question at all?
Team Server makes legacy data instantly searchable, however old it is. Terabytes of old project data come back to life. It's so quick to find data that it opens new possibilities for experimenting with different potential uses, satisfying curiosity instead of being left wondering or, still worse, being forced to go out and take new data.
The combination of BK Connect and the Team Server answers today's biggest challenges for the sound and vibration engineer. BK Connect is a configurable, intuitive and reliable, allowing the user to run, record and report. When used with the Team Server, the data is safely stored and accessible to others to solve their engineering problems.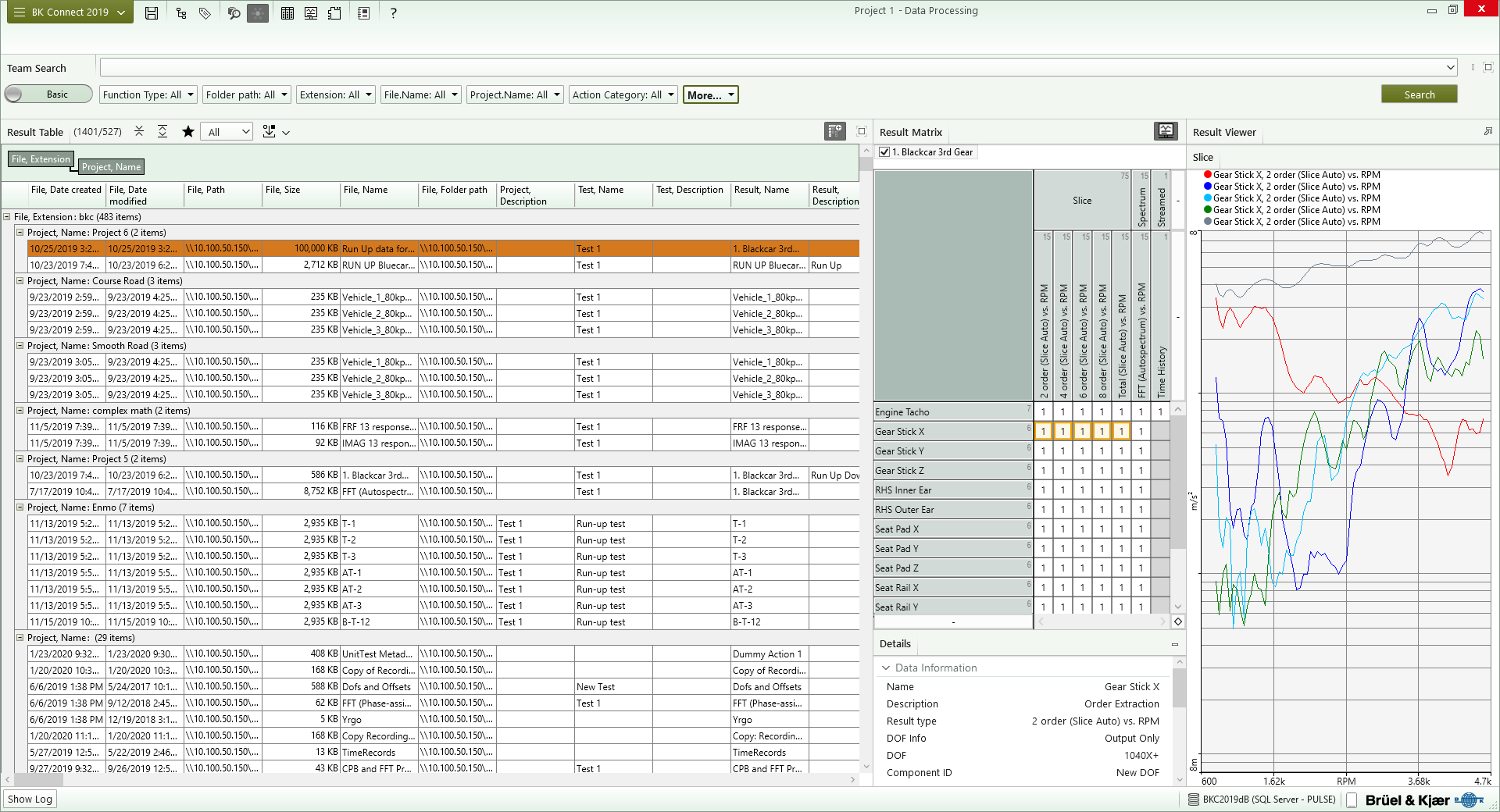 Because we know the importance of your data to you and your organization, the data from Team Sever can be visualized using the free BK Connect Data Viewer licence, giving your team members true collaboration.
To find out more contact your local sales or support engineer or check it out online.
Introducing Team Server in
BK Connect
Team Server is a new concept for searching and sharing your measurement data in BK Connect. All data is indexed based on user-defined metadata and application-related data attributes, making it easy locate and import historic data into new local projects for further processing, data comparison or reporting.


Abonnez-vous à notre Newsletter et recevez les dernières actualités en acoustique et vibrations
Les dernières infos de Brüel & Kjær directement dans votre boîte de réception
Nouveaux produits, remises et offres spéciales
Articles, vidéos et guides consacrés à l'acoustique et aux vibrations
Abonnez-vous maintenant !
WAVES en ligne