He has been chief acoustician for over 50 projects worldwide and cites the Suntory Hall, Tokyo and the Walt Disney Concert Hall in Los Angeles as two of his greatest achievements. Meet the man who decided as a boy in junior high school that his future career would somehow have to embrace his first love, music – and in particular classical music.
Taught in the fields of music and technology, there is no question why Yasuhisa Toyota does what he does – he is, quite simply, passionate about acoustic design. "Each project is different and unique," he says, "and each project provides me with different challenges. I've worked alongside many musicians and architects during my career and my inspiration clearly comes from them." Intrigued, we quizzed him further.
"I know that i have done my job as an acoustician well when audiences no longer perceive the large distance to the music."
Yasuhisa Toyota, President of Nagata Acoustics America Inc.
You obviously enjoy working closely with architects, but is design ever prioritized over acoustic quality?
The design process varies depending on the project, or indeed the architect. Some architects are very aware of the importance of acoustics; others are much more interested in architectural design. Having been responsible for acoustics in a number of high-profile, successful concert halls around the world, I can reveal that the secret of my success is good and deep communication with my project colleagues, especially the architects.
Building Acoustics – Art or Science?
If by building acoustics, you mean room acoustics or room acoustical design, then I would say that that is closely related to art because there's always the music to consider, and music is definitely art.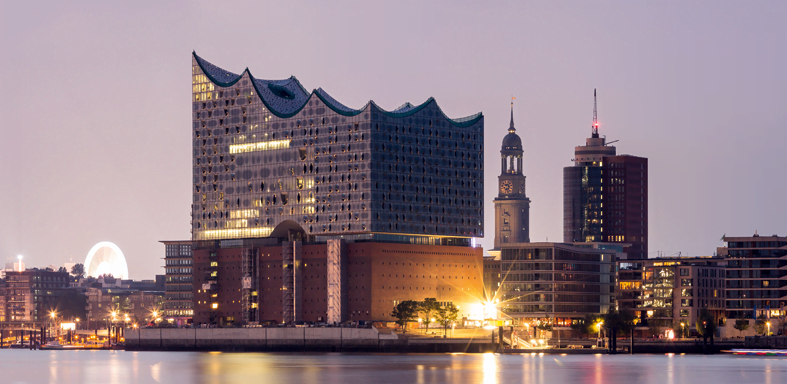 More than 1,000 curved window panels capture and reflect the color of the sky, the sun's rays, the water and the city, turning the concert hall into a gigantic crystal
Does your gut instinct or experience ever conflict with technology? If so, what wins?
Personally I think that instinct and technology complement each other, so there is no winner.
How has technology, for example, computer simulation, changed the way you work? Do you think it takes away some of the artistic nature of the job?
The change is incredible. Nothing would be possible in acoustical design without the computer technologies developed during the last twenty years. And, as long as we work with music in mind, I don't think the artistic nature of the job will ever disappear.
In your opinion, where can you experience the best acoustics in the world or the most remarkable acoustic effect?
You can't single out the world's best acoustics. Acoustics cannot be judged independently or singled out from other factors, such as the musician(s), the program and so on – the acoustic experience is personal and varies depending on the whole package. For example, although technology has become an essential part of modern concert hall design, many would still refer to The Musikverein, built on Vienna's Ringstrasse in 1870, as the best concert hall in the world. In my opinion, part of the reason that The Musikverein is so renowned is its superb resident orchestra, the Vienna Philharmonic. This is also true of other concert halls, for example, those in Amsterdam and Berlin.
More and more people are, for example, returning to buying vinyl records, as they believe that the quality achieved through technology takes away the soul of the performance. Could this be true of modern concert halls – that the sound, although acoustically perfect, can appear too clinical?
Yes, there are some people who are going back to buying vinyl records. But, I think this is mostly a reaction against highly advanced technology which, even though it's highly advanced, is still not perfect. For example, the CD was thought to be the ideal media when it first appeared, but then they developed the 'super' CD and so it goes on.
The situation for concert halls is different. I actually don't think that modern concert halls have acoustically exceeded the good historical concert halls and I don't think that the acoustic quality of the historical halls is diminished because of the modern halls. They are still up there with the best in the world. However, the good modern halls do have one advantage in that they are much more suitable for the large ensembles – for example, for performances of the works of Mahler, Bruckner, Wagner, Stravinsky and Shostakovich. The concert hall discussion is quite complicated and this is exactly why it's so interesting.
What's your latest project?
Elbphilharmonie in Hamburg, which was completed at the end of 2016 and inaugurated in January 2017. As part of that project, I measured and tested the sound quality and its distribution on an exact 1:10 model of the Grand Hall.
Finally, why is your work important?
Because my work impacts people's enjoyment of music.
---
The Elbphilharmonie – facts and figures
Total weight ca. 200,000 tons (equates to approximately 416,666 grand pianos, 722 Airbus A-380s or 2.5 Queen Mary cruise ships)
Total gross floor area ca. 120,000 m² (equates to approximately 17 football pitches)
The Elbphilarmonie's Grand Hall stands 50 meters above ground level and seats 2100 "vineyard style", where the orchestra sits in the middle of the auditorium, with the rows of seats rising up in steep tiers. This means that no audience member is further than 30 m from the conductor.
Source: elbphilharmonie.de/en
---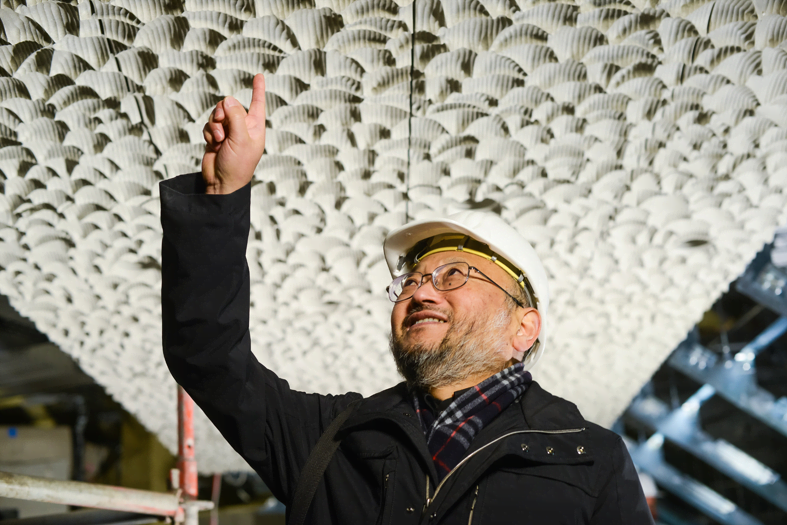 Photo © Bertold Fabricius
White skin
To ensure perfect acoustics for the Grand Hall, a special material known as White Skin was developed by Yasuhisa Toyota and the architects. This consists of 10,000 sheets of gypsum fiber panels composed from a mixture of natural plaster and recycled paper.
The panels, weighing between 30 and 125 kg, are milled according to intricate 3D calculations and produced exactly to the millimeter dimensions given, resulting in an acoustically optimal surface structure.
The walls and ceiling merge into one another and appear like a single piece of skin covering 6500 m2. With the help of an expansive reflector that is suspended from the middle of the vaulted ceiling, the panels project sound into every corner of the space – guaranteeing an optimal listening experience from each seat.
Source: elbphilharmonie.de/en
---
Related WAVES Articles


Abonnez-vous à notre Newsletter et recevez les dernières actualités en acoustique et vibrations
Les dernières infos de Brüel & Kjær directement dans votre boîte de réception
Nouveaux produits, remises et offres spéciales
Articles, vidéos et guides consacrés à l'acoustique et aux vibrations
Abonnez-vous maintenant !
WAVES en ligne