HBK 2255 Sound Level Meter
HBK 2255 Sound Level Meter is an advanced, single-channel, class 1 sound level meter. While the instrument can be used as a stand-alone measurement device, it also works with our task-tailored mobile and PC apps and features a powerful open interface for integration into customized systems. Designed for users with varied and complex workloads, HBK 2255 can be relied upon to get the job done efficiently and with maximum confidence.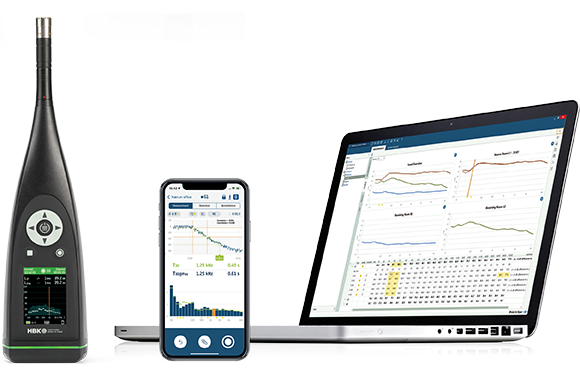 A flexible and versatile solution
The general-purpose Noise Partner app is included with all HBK 2255 units, providing remote control, documentation, data viewing and storage.
Explore the available apps by clicking the links below, and see how HBK 2255 gets the job done!
CHARACTERISTICS

Single measurement range: 15.8 – 140.9 dB from the noise floor to maximum level,
A-weighted
Removable preamplifier with TEDS for automatic microphone setup
Integrated GPS for time and location
Ergonomic design for comfortable single-handed operation
Colour LCD with a bright, clean layout that clearly displays measured level and measurement status
Measurement status light-ring visible from any angle
Built-in Li-Ion battery, typically providing more than 13 hours operation with Wi-Fi enabled
16 GB built-in storage for measurements and annotations
Integrated Wi-Fi and Bluetooth® Low Energy for connection to mobile and PC apps
MEASUREMENT CAPABILITIES
IEC 61672-1 class 1 sound level meter

Broadband level measurements with up to three simultaneous frequency weightings

1/1- and/or 1/3-octave band frequency analysis for up to two simultaneous frequency weightings

Logging of all parameters at intervals between 1 second and 1 hour

Fast-logging of broadband Leq, LXF and LXS levels at intervals between 1 ms and 1 second
Fast-logging of 1/n-octave band Leq, LXF and LXS levels at intervals between 4 ms and 1 second

Reverberation time measurements with interrupted or impulsive noise stimuli

Broadband and spectral statistics for 5 percentiles. Full level distribution stored allowing re-calculation of arbitrary percentiles in HBK apps.

Listening quality MP3-compressed audio recording

Analysis quality FLAC-compressed audio recording (65 kHz, 24-bit)

Level and timer-based audio recording triggers

Scheduled multi-frequency CIC checks for unattended monitoring applications
* Available measurement features depend on installed software licenses. Refer to product data sheet for details.
Open Interface
The open interface enables you to integrate HBK 2255 into your own applications. The open interface gives you access to exactly the same communications protocol we use to control HBK 2255 from our own apps. Real-time remote control, device configuration, and the streaming of live measurement data and even audio are all possible. The only limit is your imagination.
자세히 보기