CETEST, independent testing laboratory
Controlling noise and vibration in the railway sector is key for the well-being of residents and passengers alike


CHALLENGE
---
Noise directly affects the quality of life and is a major concern for railway and other industries. Responding to environmental noise is important not only because legislation demands it, but also because it contributes towards well-being, the quality of a journey or even the comfort of a home. For residents and passengers, railway vehicle noise is often a source of annoyance or even a major health concern. Assessment of external and internal railway vehicle noise – with international standards being used directly, providing inspiration or reference for national standards – is, therefore, the first step towards developing solutions that satisfy everyone.
SOLUTION
---
With the help of HBK products and solutions for sound and vibration measurement and analysis, CETEST can offer customers flexible and reliable test and evaluation services.
RESULTS
---
CETEST is able to provide first class services using HBK products that have short delivery times and that can be readily adapted according to customer needs
CETEST can be flexible and quick to adapt to meet their clients' requirements, anytime, anywhere thanks to HBK's portable test equipment that allows CETEST to take the laboratory to customer premises.
Based in north Spain, CETEST is an ISO 17025 accredited test and analysis centre that provides test, engineering, and monitoring services worldwide.
Founded in 2007 as an independent company, CETEST offers its testing services to customers, mainly in the railway industry. It has worked with some of the largest companies in the railway sector and helped with certification processes for railway vehicles, components, and systems – both new and modified. Having attained EN 9100 accreditation CETEST has now branched out into the aviation and wind energy sectors.
In order to deliver services to such demanding industries, CETEST has had to invest heavily in cutting-edge R&D, technology, and instrumentation for testing – these include Hottinger Brüel & Kjær (HBK) products. With a highly qualified and professional team, CETEST is a leading test centre that stands out for its flexibility and teamwork with customers.
Wide expertise
In accordance with international standards, CETEST performs a wide variety of tests for the railway sector. These include tests for structures and subassemblies, EMI/EMC, running dynamics, noise and vibration, aerodynamics and structural health monitoring, for example, measuring the sound pressure levels inside railway vehicles, assessing the noise impact of the horn in the driver's cab and measuring the interior noise (sound pressure) of rolling stock.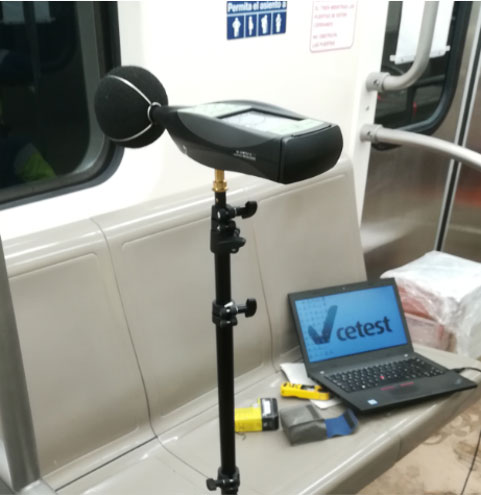 CETEST also provides services for the assessment of noise levels (sound pressure, sound intensity and sound power) in railway vehicle components, the assessment of PA system intelligibility in trains, railway stations or any other public area (for example, airports, supermarkets, etc.), as well as for measurement of reverberation time and sound insulation.
CETEST operates in a sector where environmental noise is becoming increasingly important. Railway noise is often a concern and an annoyance for both residents and passengers alike. CETEST is accredited to perform noise tests not only according to the mandatory acoustic requirements defined by the European Union Agency for Railways but also according to international standards that define methodologies for acoustic assessment and the requirements of customers. High-quality measurement results with minimum uncertainty are, therefore, a must.
ON THE RIGHT TRACK WITH HBK
Thanks to its collaboration with HBK, CETEST is fully prepared and equipped to validate indoor and outdoor acoustic performance in different situations, post-process data and provide accurate results. Indoor noise measurements are made on all types of stationary vehicles – from trams and light rail vehicles, to Electric Multiple Units (EMU), Diesel Multiple Units (DMU) and high-speed trains. In addition to warning horn tests, noise levels are measured at constant speed, during acceleration and deceleration.
CETEST's outdoor (on-track) noise test capabilities are also numerous – from making measurements on vehicles at standstill, at constant speed, accelerating from stationary and braking to warning horn tests and assessment of exterior noise emitted by railway components, such as power inverters or equipment and sensors in adverse weather conditions.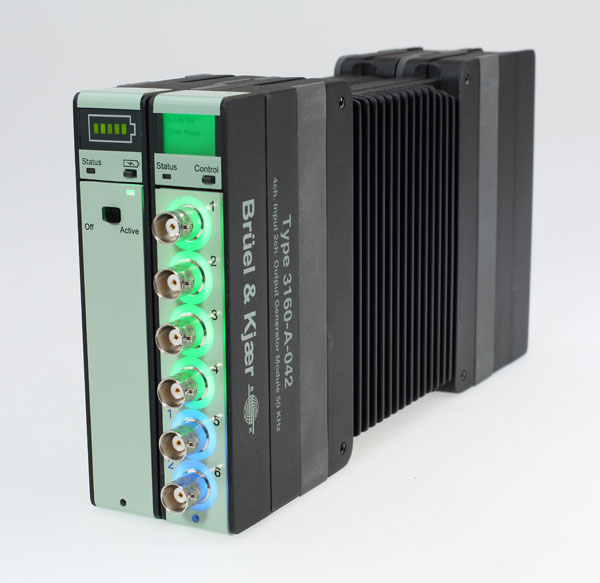 For both indoor and outdoor tests, CETEST uses omnidirectional microphones, LAN-XI data acquisition hardware (multichannel input modules), sound level meters, sound level calibrators and recording systems based on PULSE LabShop™ and PULSE Reflex™, now BK Connect®. This equipment, together with a loudspeaker sound source and DIRAC room acoustics software, is also used for speech intelligibility measurements of public address systems and conversations between adjacent passengers in compliance with the IEC 60268–16 standard.
For the sound power determination of railway components (for example, gearboxes or traction units) both sound intensity and sound pressure methods are used, correcting the sound field by measuring the reverberation time. CETEST also measure sound insulation of doors and other partitions..


当社ニュースレターを購読すると音とバイブレーションの世界からの最新情報を取得できます。
最新のブリュエル・ケアーからのニュースをメールでお届けします。
新製品情報、セールやキャンペーンなどの情報
音響・振動の記事、ビデオや情報
購読申し込みはこちら!
WAVESオンライン