Type 3663
Sonoscout - iPad-Based Data Recorder
Iintuitive and portable iPad-based system, Sonoscout, records noise, vibration and harshness (NVH) data, including CAN data, and analyzes results immediately on the tablet.
Request Price
Sonoscout is a system that uses an app on an iPad® to control a wireless data acquisition unit.

This rugged front end can connect up to 12 transducers, such as a binaural headset for in-vehicle recording at the user's ear positions, or two independent CAN bus inputs and up to eight transducers (depending on the front-end configuration).
The front end is battery-powered and transmits data to the iPad for recording or records directly to an SD card inside the front end, avoiding the need to use WiFi. The intuitive app makes it simple to either perform basic analysis or to replay and listen to files in order to validate recordings before exporting them for further analysis or archiving.
USE SCENARIOS
General sound and vibration recording and analysis, such as troubleshooting
Single-handed recording of vehicle intake and exhaust noise levels for benchmarking competitor vehicles
Making quick recordings at the ear position and quickly replaying them, such as interior cabin noise during flight testing
Gathering raw data (including CAN data for internal combustion, electric, and hybrid vehicles) for incorporation into NVH simulator models of current vehicles and future potential designs
CHARACTERISTICS
The iPad can be dashboard-mounted in vehicles, where large buttons and clear displays help you control tests and view acoustic, vibration, tachometer, and CAN bus signals. To increase safety while driving, automated triggers based on level or GPS events.
During measurements, you can save screenshots of the displayed data by tapping a single button. You can also tap the screen to mark important events and time periods. Sonoscout maps the route automatically using GPS, and displays marked events in Google Earth™ - complete with the location of event markers. Additionally, you can generate your report directly on an iPad using any Microsoft Office® application.
After recording, you can replay time histories immediately, and validate data by exploring it with your fingertips, listening to dual-channel replays, and comparing it with other tests and vehicles.
CAPABILITIES
Automated calibration procedure
Listen to accelerometers to ascertain correct mounting
No input ranging from Dyn-X technology
Document tests using the iPad to take pictures and videos of your setup, etc.
TEDS support for automatic transducer recognition
Built-in CAN bus interface
Logs all CAN data including engine RPM, speed, throttle position, and more (with LAN-XI CAN Bus Module Type 3058)
Pre-triggering and auto-stop functions
Exporting data in common file formats: .bkc, .pti, .wav, .hdf, .sdf, .asq-wav
FFT, order analysis, spectrogram analysis, sound quality metrics
Narrowband and 1/3-octave band analysis (synthesized)
SD card recording option for front-end using iPad control
ANALYZER SYSTEM PACKAGE
Get Sonoscout in a complete package including BK Connect for data viewing, time editing, and data management, together with software maintenance updates and expert support.
DOWNLOAD
Download the Sonoscout app from the App StoreSM to try in its demo mode with a virtual data acquisition front end.

DATA ACQUISTION HARDWARE
This system is based on our modular LAN-XI Data Acquisition System, which is the universal backbone of our data analysis systems. If you already own LAN-XI hardware, you can unleash it with Sonoscout.
DO YOU WANT TO LEARN MORE ABOUT CAN BUS?
We have developed an interactive tutorial that gives you an introduction to the CAN bus, some suggestions for how to configure a system to record CAN parameters in the vehicle, and an overview of standards relevant to the integration of CAN bus data in a data acquisition system.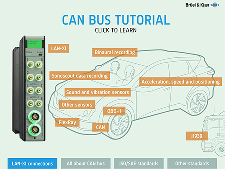 > Open CAN bus tutorial